Heading to Boracay Island? Lucky you! It's a beautiful part of the world. The next step after deciding to go is to find the best Boracay hotels for family. And that's what we will help you with here!
Boracay is perhaps the most famous of all the 7,000+ Philippine islands, thanks to the ridiculous beauty of White Beach – all 4km of it! Pristine white sand gently slopes down to meet the sea, with stunning palm trees leaning out towards the ocean providing lots of natural shade.  
Dropping away slowly, the beach gives way to a shallow ocean that is ripe for watersports. Plus each afternoon the setting sun provides an awesome display that is hard to beat!  
Whether you're here for the beach, for the award-winning accommodation, for diving, for water sports, or just to immerse in the buzz and fun of White Beach, Boracay has something for all ages and won't disappoint! 
In this article, I help you find the best Boracay family hotels no matter what your budget or what exactly you are looking for.
So whether you are looking for the top Boracay family room options, the best Boracay family resorts or the best Boracay cheap hotels for family, we have you covered with the best hotels in Boracay for family for you.
Here is our list of the best family friendly hotels in Boracay Island as well as some information about exactly where to stay in Boracay with kids and families.
Comparison Of The Best Hotel In Boracay For Family
Top 12 Best Boracay Hotels For Family
Address: Main Road, Station 2, Balabag, Aklan, Boracay
Near: Close to shops, restaurants and access to White Beach
Room Types: A selection including deluxe/premiere/grand rooms, suites and family rooms
Top Family Features:
One of the largest swimming pools on Boracay
Mini shop onsite, ideal for snacks and treats
Access to beachfront area at sister property Henann Regency Resort & Spa
Walking distance to pump boats, sailboats and many local restaurants
In our opinion you can't get more centrally located than this! The thumping heart of Boracay, Henann Lagoon Resort is located just off White Beach, at what feels like the centre of everything.  
A sprawling resort (one of the largest on the island), there's an asian-inspired feel to the 222 rooms with luxury furniture and beautiful bed linen. The wooden balcony and verandah blinds – plus splashes of brilliant blue and beige – give the rooms an almost tropical feel. This is all offset by views of the bright turquoise swimming pool or of the lush gardens.
Rooms are large, with even Deluxe at 40sqm containing one queen and one single bed. Luxury is the aim, with rooms beautifully laid out with large LCD televisions and cable, sitting areas filled with designer armchairs and ensuite bathrooms with granite countertops.
Bedding comes with 300-thread-count duvets and ample pillows, so turn up your air-conditioning for a cool night's sleep! The resort offers in-room dining, twice-daily housekeeping and tea/coffee facilities. Without a doubt, these are some of the top room options on the island! 
However, most of the focus is on the 1200 metre meandering pool that weaves its way alongside the restaurant and between the rooms. Guests can enjoy sunbathing on the little "islands" created around the pool, complete with sun loungers and umbrellas, plus there's a gorgeous sunken bar for cocktails and snacks. Dining is enjoyed at the Lagoon Cafe, right next to the pool and is open for breakfast, lunch and dinner.  
Guests can also appreciate complimentary WiFi access and have use of a modern gym and fitness centre, business centre, convenience store, and 24-hours standby generator for those famous Philippine blackouts!
Click here for more information.
Best Parts?
A wonderful combination of luxury accommodation and service, whilst being centrally located for all of Boracay's famous action. Relax peacefully at the gorgeous swimming pool or step outside onto White Beach to dive into the lively island fun, making this perhaps the best family resort Boracay has to offer.
Worst Parts?
Hard to fault, it's perhaps easy to spend too much time at the hotel and miss the famous vibe and sunsets that Boracay is renowned for. Keep in mind that luxury at this level doesn't come cheap.
Summary
One of the top Boracay and White Beach accommodation options – and perhaps with the standout family room in Boracay Station 2 – Henann Lagoon Resort is a luxury treat with modern and beautifully furnished rooms, a stunningly large swimming pool and guest access to the longest stretch of beachfront area at the adjacent resort.
Click here for more information and the latest prices.
Address: Beachfront, Station 1, Balabag, Malay, Aklan, Boracay
Near: Opens onto White Beach, near the famous Willy's Rock Formation
Room Types: Queen, king and deluxe rooms and suites with family suites available
Top Family Features:
Baby cribs provided
Complimentary use of board games, VCDs and DVDs
Small kiddie pool
Complimentary shuttle to nearby shops
A luxury beachfront resort that has been a firm favourite for tourists since opening back in 2007 is Two Seasons Boracay.  
The 34 guest rooms (which all come with complimentary cooked-to-order breakfast) are spacious and decked out in earthy tones, mixed with a tropical feel. Air-conditioning is standard across all room types, as is an iPod docking station, flat-screen TV with satellite/cable channels, DVD player, mini-bar, coffee/tea making facilities, and an ensuite bathroom with rain shower.  Complimentary toiletries are provided, along with a hair dryer and safe.
Featuring an outdoor pool that is perhaps more for aesthetics than swimming and a koi pond, the highlight is the onsite restaurant BarLo Resto Lounge. Famous for its fabulous European Asian eclectic cuisine, there's a great vibe to the restaurant in the evening. (They're most noted for delicious pizzas, helping to make this a firm-favourite family hotel Boracay!)  Plus there's the Sky Bar on the roof deck for an evening of chilling-out and people-watching.
The hotel offers (paid) airport transfers, complimentary WiFi, daily housekeeping and the 24/7 front desk staff are happy to assist with island hopping tours and water activities.
Click here for more information.
Best Parts?
Their Suite Heaven is one of a kind on the island, being a presidential suite on the 3rd floor that measures 61 sqm and has an almost unbroken view of the beach thanks to the unique glass walls. There's a 16-sqm infinity pool too!
Worst Parts?
The pool is heavily bordered by the rooms. The hotel is located at the furthest end of White Beach from the Caticlan Jetty (though nowhere is too far away on an island the size of Boracay!).
Summary
A wonderful beach location at one end of White Beach, this family-friendly hotel offers rooms that are spacious and elegantly designed, filled with modern inclusions such as iPod docking stations. It comes as no surprise that it is regularly mentioned as the best family resort in Boracay with some of the largest family rooms for rent in Boracay. Plus with one of the top restaurants on the island, you're guaranteed to both dine and sleep well!
Click here for more information and the latest prices.
Address: Station 2 Beach Front, Brgy. Balabag, Malay, Aklan, Boracay
Near: Midway along White Beach and just a few minutes walk to D'Mall
Room Types: Deluxe, loft and premiere rooms as well as one bedroom suites
Top Family Features:
Unlimited popcorn and ice cream available from 10am
Games Room, kids club and kids pool
Children under 4 stay free
Baby cot available upon request
Coast Boracay is a trendy, fun hotel option that excels at keeping their guests happy and is perhaps our pick for the best resort in Boracay for the family! Complimentary turndown gifts, free ice-cream and popcorn throughout the day, arts-and-crafts and pool fun activities arranged for children, and a lively restaurant with live band or DJ offer a buzzy atmosphere in the evenings.
Throughout the hotel everything blazes white – clean and bright. With the contrasting blue of the rectangle pool that runs through the middle of the resort in bright contrast. Elegant sun loungers are scattered around – and in – the pool, covered by white umbrellas.  
There's a small fitness centre, spa, and onsite shop. Bookings come with complimentary airport transfers from Caticlan Airport (paid transfers from Kalibo), and there's free WiFi throughout the hotel.  
The 71 rooms are modern and also brightly white, but with splashes of colour and unusual designs painted on the walls. Most come with a 43-inch LCD/Plasma TV, ensuite shower and are noted for their five-star bedding – a good sleep guaranteed! There's air-conditioning, an in-room safety box, coffee/tea maker, on-demand movies and Netflix, and a daily housekeeping service.
Deluxe, Loft (with kitchenette) and Premiere are on the small side and families will prefer the One-Bedroom Suites which can easily sleep 4 pax.  
The 24/hour reception comes with funky misshapen furniture, whilst the friendly staff will assist with your tours and activity bookings, or you can elect to spend the day lounging at the private beach area in front of the hotel. You'll find exclusive beach chairs with attentive service again from the staff – this time with towels and ice-cold refreshing water!
To keep the kids busy, there's a fabulous games room with a movie area, table tennis, foosball, video games and various board games open daily from 9am to 9pm.
As for dining, head to ChaCha's Beach Cafe – a bright, sprawling restaurant with high ceilings that looks out onto the famed White Beach of Boracay. Breakfast is a buffet that changes daily, whereas lunch and dinner is a-la-carte, with delicious sharing platters full of fresh seafood or packed pizzas.
Click here for more information.
Best Parts?
The overall trendy style of the hotel, along with the friendly staff who will greet you by name and offer excellent personalized service. This Boracay accommodation family-focused hotel has their own speed boat for super quick (complimentary!) transfers from Caticlan and an exclusive beach area with sun loungers.
Worst Parts?
Some rooms offer no views, hence it's best to check directly with the hotel prior to booking.
Summary
Looking for a family package in Boracay? This fun hotel has so much to offer families – with a great games room, a kids pool, plus kids activities and complimentary treats that will have kids bouncing with joy! Set in a fabulous position midway along White Beach, you can't go wrong with a stay at Coast Boracay.
Click here for more information and the latest prices.
Address: Punta Bunga Cove, Barangay Yapak, Yapak, Boracay
Near: Northern tip of the island at Punta Bunga Beach 
Room Types: Deluxe doubles/twin rooms, suites, villas with private pools and more Boracay family accommodation
Top Family Features:
Crimzone Kids Entertainment (kids club) and activities
Kids pool and lifeguard on duty
Babysitting services (chargeable)
Private beach with snorkelling easily available by walking out from the shore
Newly opened in early 2018, Crimson Resort and Spa is a luxury sprawling 5-star resort set away from White Beach at Punta Bunga Cove. With its own small private beach with snorkelling reef, 3 swimming pools, kids club, spa and 3 restaurants, this is fast becoming the best that Boracay can offer!
An elegantly designed hotel, in line with the Crimson branding, contemporary architecture is complemented by landscaped gardens and accommodation interiors that are speckled with traditional Filipino cultural taints. Your VIP Boracay experience commences upon arrival to Caticlan Port with a private sea transfer (weather permitting) direct to the hotel.
Choose from 192 rooms, a mixture of villas (all with plunge pools), suites and deluxe accommodation. All rooms are bright, featuring floor-to-ceiling windows. Ocean breezes flow through the rooms, or close your terrace or veranda doors for cool air-conditioning or switch on the ceiling fans. Crisp white linens come with swathes of blue, whilst ensuite bathrooms are modern with his-and-her sinks, large white sunken baths and quality bathroom toiletries.  Windows are fully automated, and there's complimentary high speed WiFi throughout the resort.
Guests can watch the latest movies on 55-inch LED TVs with cable satellite, and enjoy brewing with Nespresso Coffee makers. There's 24-hour in-room service too if you can't bear to leave the room! Villa guests have special privileges, such as express check in/out, welcome amenities, sunset cocktails and more.  
Guest facilities are wide and varied as befits such a luxury property, including beach soccer and volleyball, a semi-submarine boat adventure, kayak, stand-up paddle board, beach tennis and speedboat island cruises.   
Aum Spa is open daily from noon to 8pm, plus there's a modern gym with weights and treadmills, and you'll find swimming pools galore with a Main infinity Pool, the Cobalt Pool and Indigo Pool too, plus a Kids Pool open 7am-6pm!
Reaching the shops and restaurants at White Beach is no problem with the complimentary twice-daily shuttle to D'Mall, or staff will organise a paid etrike at any time. However, the hotel has 3 on-site restaurants – Saffron Cafe (international), Azure Beach Club (Asian, Indian and Japanese) and the Mosaic Latin American Steakhouse, plus a Pool Bar, thus you really don't need to leave!
Click here for more information.
Best Parts?
The overall luxury of the resort, from the facilities to the rooms, to the dining – plus the awesome private beach-setting.
Worst Parts?
Can feel a little cut off from the rest of the island and it takes some effort to leave the hotel for D'Mall or White Beach. You can also feel a little on top of other guests with the design of the hotel.
Summary
Treat yourself like a VIP and book a stay here, with luxury accommodation, endless activities, a wide selection of restaurants and hospitable staff. With a kids pool, kids club and a plethora of fun activities, this is a standout of family hotels in Boracay.
Click here for more information and the latest prices.
Address: Boracay Hwy Central, Malay, Aklan
Near: Directly opposite the local City Mall with Jollibee
Room Types: Superior double/twin rooms, premier rooms, family rooms and suites
Top Family Features:
Indoor playpen and outdoor playground
Babysitting service and tonnes of family features
Six swimming pools
Private beachfront
A Conde Nast Award Finalist 2021, and selected as one of the top luxury resorts in the world, the hint is in the name here as the hotel is the site of the island's only golf course – a 6524-yard, 18-hole par-72 Graham Marsh designed course.  
Covering 80-hectares, it's an eco-friendly resort (partnering with WWF to promote sustainable and responsible tourism), and is so much more than just a 'hotel next to the golf course'. There's a private white-sand beach that's ideal for swimming, along with a mind-boggling 6 swimming pools, plus a staggering 20 food and beverage outlets!
A massive resort, there's more than 850 air-conditioned rooms – spread out in various buildings around the course and grounds that open up to views of the gardens, a swimming pool or the tropical golf course. Each room has an LED flat-screen TV with cable/satellite channels, iPod dock, fridge and tea/coffee maker.  Plus there's an ensuite bathroom with shower, free toiletries and a hairdryer.
Other onsite facilities include private swimming pools, fitness and wellness facilities (which include a hot tub, steam bath, sauna and gym), eco-friendly transport, an exclusive clubhouse and two relaxing spas.
There's also a crazy amount of food and beverage outlets! These include We Chill Gastropub, Kudetah Italiano Ristorante and Tapas Bar, Hideaway Jacuzzi Bar (featuring the largest outdoor Jacuzzi tub in Boracay), the Skydeck Bar with panoramic views of the Sibuyan Sea, Fiesta Patio (al-fresco dining) and others that focus on global cuisine, Asian-Italian fusion, chef's signature dishes or Mediterranean-Asian cuisine!
For the young at heart, there's a thrilling zipline and chairlift ride for a bird's-eye view of the island, horseback riding and Segway rides. There's also a wide variety of water sports on offer including diving, island hopping excursions, banana boat rides, kayaking and parasailing.  Definitely some of the more diverse family activities in Boracay!
Located in the north-east corner of the island, it's far enough away from White Beach to feel exclusive yet in reality only 2km from D'Mall (but more convenient is the shopping mall with pharmacy directly opposite the resort).
Click here for more information.
Best Parts?
So much to do, with unique activities such as the onsite zip line/chair ride, plus Segway tours.  Avoid busy White Beach and enjoy water sports direct from the hotel's private beach area. Plus the 20+ dining outlets simply can't be beat!
Worst Parts?
Located 6km from the Caticlan Jetty port. It's easy to stay at the resort throughout your Boracay stay and miss the atmosphere of White Beach. Not ideal if you're looking for on-the-beach accommodation or a more exclusive experience.
Summary
Having some of the highest selections of all Boracay hotels: family-rooms with two-bedrooms – great for families with older children and affordable rooms for big family in Boracay.  With numerous dining options, superb water sports and many pools, you can build a wonderful Boracay hotel family package, leaving little reason to step outside of the resort!
Click here for more information and the latest prices.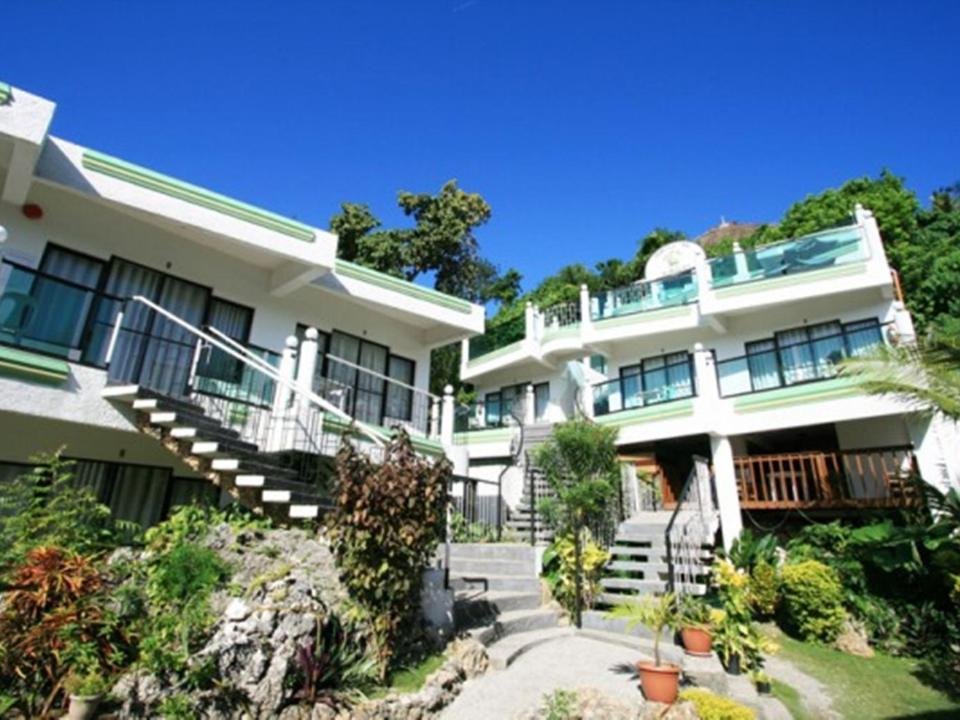 Address: Station 3, Ambulong, Barangay Manoc-Manoc, Malay, Aklan, Boracay
Near: A 5 minutes walk from White Beach and 15 minutes stroll to D'Mall
Room Types: Standard/superior rooms, deluxe family and family room with balcony/terrace
Top Family Features:
Family room with 2 queen beds
Babysitting service upon request
Ease of location for White Beach
Bicycle rental
A 15-room family-run hotel, set away from the beach, the soft sand of White Beach is less than 5 minutes walk.
White and green is the running theme, with rooms in a couple of 2 or 3-storey buildings with no elevators. Shared balcony space looks out on garden views, and there's white plastic chairs and tables.  
Room interiors are sparsely furnished but spacious, and you have all you need for a good sleep with air-conditioning, plus cable TV. Each room comes with an ensuite with hot shower and toilet, plus there's daily housekeeping and room service, and complimentary WiFi and back-up generator in case the island's power fails.  
There's a small coffee shop onsite with wicker tables and chairs that serves international dishes, light snacks, and you'll find refreshingly cold drinks at the bar.
The hospitality of the owner is well documented and staff can help with arranging diving or snorkelling trips, barbecues or karaoke fun!
Click here for more information.
Best Parts?
Great location for White Beach fun and many restaurants only a short walk away. Perhaps the cheapest family room in Boracay.
Worst Parts?
No beach or sea views and no swimming pool (but the beautiful ocean only a few metres away).
Facilities may feel rather basic.
Summary
If you're looking for a family room in Boracay Station 3 or affordable hotel in Boracay for family adventures, this is your ideal option.
Click here for more information and the latest prices.
Address: Beachfront, 2 Station, Malay, Aklan, Boracay
Near: One minute from White Beach and 2 – 3 minutes from D'Mall
Room Types: A range of rooms (classic, deluxe, premier, family etc.) and multi-room suites
Top Family Features:
Enormous 2-storey family room with 3 bedrooms (sleeps up to 7 people)
Opens on to White Beach and the best location for shops, restaurants etc.
Swimming pool
Babysitting (chargeable)
The Red Coconut Hotel is at the centre of action at White Beach Station 2. Opening out directly onto the beach, the accommodation has a beach-feel, with rooms featuring wood, rattan and wicker furniture, whilst pictures show Filipino scenes from years gone by or depict shells from the shore.
Larger rooms come with double sinks and deep bathtubs, have private balconies and some surround sound systems. All rooms have air-conditioning, WiFi access, a Smart TV with cable channels, mini-bar, hair dryer, electric kettle and hot/cold water.
The hotel's on-site Island Activities Centre will assist with water sports or excursion arrangements, or you can spend the day at the gorgeous pool that runs the length of the property.
There's a busy restaurant onsite too – the Red Coconut Boracay Restaurant that features mixed cuisine such as pizzas, burgers, sizzling plates and local specials of pork adobo or sinigang na lechon. After dining, you can move to the Red Coco Beach Bar for colourful cocktails and sometimes live music.
Click here for more information.
Best Parts?
A fabulous location for anyone looking to immerse in Boracay's famous White Beach. Enjoy a splash in the large swimming pool. Some suites offer stunning ocean and palm tree-filled views.
Worst Parts?
The rooms can feel a little dated. No bathroom toiletries.
Summary
This is good, if not luxury, accommodation, in a prime Boracay location making it our pick of cheap hotels in Boracay Station 2 for family. A fantastic restaurant and bar onsite too, and surely one of the largest Boracay hotels Station 2 family room options on the island.
Click here for more information and the latest prices.
Address: Barangay Yapak, Boracay, Aklan
Near: The most north-west tip of the island – positioned for peace and quiet
Room Types: A range of rooms, suites and one or two bedroom villas
Top Family Features:
Adventure Zone and Entertainment Centre
Stunning swimming pools and two private beaches
Babysitting service and child care for 4+ years
Scuba diving courses for children
The perfect paradise destination, the Shangri La at Boracay never fails to impress! Owning 350-metres of immaculate beachfront and containing a sprawling 12-hectares of gardens, the hotel was the first luxury Boracay hotel. Today it still hits the mark from the moment you arrive at Caticlan into the exclusive welcome lounge, before taking the Shangri-La's speedboat direct to the resort.
219 rooms and villas have private balconies with impressive views from daybeds. All villas come with a private butler service and private pools (except for the Tree House Villas that have outdoor jacuzzis). You'll find a TV with cable and movie channels, complimentary WiFi, mini-bar, tea/coffee-making facilities, and a special pillow menu for villas and suites.
Rooms are designed in old-style luxury, with paneled walls, beautiful wooden furniture, local touches (such as capiz shell lights), and cosy sofas. Pool Villas are massive, with a private sprawling swimming pool, marble bathrooms, and they open up into exotic gardens, whilst Ocean Villas have cliffside sweeping sea views that are exquisite!  
Reception staff assist with foreign exchange, laundry and valet service. There's an on-site hair salon, medical clinic, plus a handful of retail shops. Special services include a shoeshine service, express check-in/out, IT butler and business centre facilities.  
There's 24-hour in-room dining and 4 restaurants plus 2 bars to enjoy. Select from Vintana Asian Cafe, Sirena Seafood Restaurant and Clifftop Bar, Rima Mediterranean Restaurant or Cielo Poolside Restaurant and Bar.  
Relax at CHI, The Spa at Shangri-La or exercise at the fully-equipped health club. There's an outdoor free-form pool, plus a lap-pool too. Divers should check out the Marine Centre and Dive Shop.  
The Entertainment Centre is a family-friendly spot for some competition across the ages – with video and arcade games, table tennis, karaoke and billiards. For the more young at heart, the Adventure Zone is an indoor playground with a drop slide and children's activity corner. And all ages can visit the Eco Centre, for fish-feeding and other environmental activities.
Two secluded beaches – Punta Bunga and Banyugan Beach – are ideal spots to try out the myriad of watersports on offer such as kayaking, parasailing, SUP, jet-skiing, water-skiing, mono skiing, wakeboard or kitesurfing. Plus there's banana and fly-fish rides, catamaran sailing and private boat charter too!
Click here for more information.
Best Parts?
Everything! This is luxury accommodation, full-on fun land and sea activities, and awesome dining. From the moment you arrive at their private lounge at the airport you're assured of excellent personal service.
Worst Parts?
If you're looking to immerse in the Boracay vibe or hoping to find a budget hotel in Boracay for family, this is not the right fit.
Summary
An amazing resort that almost needs no introduction. Famed for their high percentage of repeat guests that have been visiting annually for years, Shangri-La Boracay is the epitome of holiday pampering. Set in a remote part of the island, guests enjoy fine dining, excellent sports facilities, a world-class spa and accommodation that is off the scale! Settle into your enormous villa with a private pool, ocean views and butler. Life is good!
Click here for more information and the latest prices.
Address: Station 1, Balabag, Malay, Aklan, Boracay
Near: Almost opposite Willy's Rock at Station 1 – 5 minutes trike ride to D'Mall
Room Types: Budget, Standard and Deluxe
Top Family Features:
Small swimming pool only 3ft deep
Free WiFi 
Breakfast included
Set back off the beach at the main road, Hannah Hotel is only a few minutes away from White Beach. This budget hotel offers three room types that all come with air-conditioning, private balconies with mountain views, cable tv, hairdryer and a seating area. The ensuite bathrooms come with a shower and toiletries.
The 13 rooms are sparsely furnished, and have wooden features such as clothes rack, lamps and cabinets. Space is limited but all your basic needs are covered, including free WiFi.
Daily housekeeping is provided, and there's a 24-hour front desk and tour desk, express check-in/out and luggage storage service.
Bookings come with a free breakfast, and there's complimentary water/tea/coffee in the reception area all day long. And the hotel is surrounded by many restaurants for lunch and dinner options.
Click here for more information.
Best Parts?
An ideal cheap hotel in Boracay for family that's in a central location but set back from the beach.
Worst Parts?
Walls are a little thin, thus you can sometimes hear fellow guests in the corridor. No ocean views.
Summary
If you're looking for cheap hotels in Boracay for family, the Hannah Hotel could well be the one for you. Located just off White Beach at Station 1, the rooms are clean, breakfast is included, and all the famed Boracay fun is just a few minutes walking distance.
Click here for more information and the latest prices.
Address: Station 3, White Beach Path, Malay, Aklan, Boracay
Near: On the edge of quiet Station 3 but near enough to D'Mall at only 5 minutes walk
Room Types: Deluxe king suite, premiere rooms, deluxe and superior rooms (2 pax per room)
Top Family Features:
Small swimming pool
Directly at White Beach
Babysitting service (chargeable)
Italian restaurant onsite
If you're travelling with older children this could be your ideal on-the-beach centre-of-everything accommodation choice.  
Calypso Dive Resort focuses on introducing diving or enhancing their guest's diving abilities, offering PADI courses from 5-star multilingual teachers.  
If you're new to diving, take the introduction to scuba and practise basic skills in the onsite pool.  Move into the air-conditioned classrooms for theory lessons, before joining staff on fast boats out to dive spots. Up-to-date equipment, dive computer rental and underwater cameras for rent are just some of the attractions that make Calypso a top dive hotel.  
After your adventures, return to the hotel to relax in surprisingly spacious rooms – especially the King Suites which are a standout Boracay accommodation option!  Brightly coloured with swatches of orange or brown (plus loads of natural light), many of the rooms open onto White Beach palm tree-filled views.
All rooms have comfortable king-size beds, air-conditioning, ceiling fans, safety deposit box, tea/coffee facilities, mini-bar, cable TV, hairdryer and a large ensuite bathroom with hot/cold shower. There's complimentary fast WiFi throughout the hotel and garden grounds, and loungers alongside the pool.
The onsite Italian Sensi Restaurant offers pizzas and grill platters, whilst the Deco Stop Sunset Bar is great for cocktails and swapping notes on that day's diving adventures!
Click here for more information.
Best Parts?
Gorgeous beachfront location, with Boracay's famed sunsets at your doorstep (or directly at your balcony). Spacious king suites with fabulous views. Swimming pool with beach views.
Worst Parts?
All rooms have a maximum of two guests, thus not ideal for those with young children or looking for cheap family rooms in Boracay, but this is an excellent choice if you're travelling with teenagers or older children. No elevator to reach the higher floors.
Summary
Fantastic diving-focused hotel right on White Beach, that's great for teenagers looking to start diving or adults wanting to see shipwrecks and experience thrilling drift dives, all handled by qualified PADI staff. Guest rooms are spacious and have some fabulous Boracay views.
Click here for more information and the latest prices.
Address: Station 2, Beachfront, Balabag, Malay, Aklan, Boracay
Near: Near all that Boracay has to offer at Station 2  – directly on the beach
Room Types: Room options include superior, deluxe, family, basic and luxury suites
Top Family Features:
Luxury family room offers two bedrooms
Three pools to choose from
Mini shop onsite, ideal for snacks and treats
Opens directly onto the beach
There are currently six Henann resorts or hotels in Boracay, with more planned to open, and it's fair to say that Henann Regency Resort and Spa is the best of the best – if not only thanks to its prime location directly on the beach at Station 2.
The original Boracay Henann hotel, it has grown over the years from just 43 rooms to a sprawling resort with over 300 rooms. This is world-class accommodation designed with a Mediterranean-inspired feel. Air-conditioned, spacious rooms are fitted with cable TV, and come with a minibar, tea/coffee making facilities, daily housekeeping, and many have a private balcony overlooking the pool.  
Built in "wings", with each wing having its own swimming pool, accommodation is in 2-3 storey long blocks. Select Main and North Wings for beachfront rooms, whereas the East Wing (with a pool bar and jacuzzi) offers seclusion and privacy away from the beach. 
There are 25 family rooms available, which come with two-bedrooms and 1 shared marble bathroom.  
The Kai Regency Spa offers relaxing treatments and there is a state-of-art fitness centre for the obligatory vacation workout session! A handy onsite mini-mart sells essentials, and a business centre, tour desk and an enormous 24-hour reception area are just some of the services available. Others include baggage storage, a concierge desk, foreign currency exchange, local area transport and a towel service.
There are 3 swimming pools (each with a kiddie pool), and 4 restaurants to choose from including fine-dining at Christina's Restaurant (Italian and Filipino specialities) and Sea Breeze Cafe (fresh buffet-style delights with ocean views). Wave Bar is your go-to destination for al-fresco drinks and an indoor club on the upper floor for a late night boogie.
Click here for more information.
Best Parts?
Location at Station 2, giving the best of both worlds – great pools and the ocean at your doorstep. Stunning, modern accommodation and facilities.
Worst Parts?
Filipino ambiance is sometimes missing, meaning you could be at any luxury hotel in any part of the world. Lacking in child-specific activities and treats.
Summary
One of the featured landmarks of White Beach, the hotel has a 125-metres of beachfront (opening directly onto Station 2) and is a 5-minute walk from D'Mall. Luxury service, luxury facilities and 5-star accommodation awaits you.
Click here for more information and the latest prices.
Address: Station 3, Sitio Angol, Manoc-Manoc, Malay, Aklan, Boracay
Near: A 15 minute walk along the Beach Path to buzzy Station 2
Room Types: A range of rooms including executive suites, deluxe rooms and family suites
Top Family Features:
Opens directly on to a quiet part of White Beach
Kids outdoor play equipment
Board games/puzzles and children's TV networks
Babysitting service (chargeable)
Leave behind the hotels and sprawling resorts for this home away from home located right on White Beach. Located at the quiet end of Station 3, Villa Caemilla is a two-level house converted into luxury and spacious rooms, and a downstairs communal area of reception and hang-out sofas and terrace restaurant with White Beach views. 
A small private beach area is scattered with wicker chairs and loungers, and crisp white umbrellas – making this your own slice of paradise on the famed long beach of Boracay.
Guest rooms are air-conditioned, and come with flat-screen TV, mini-fridge, seating and dining areas, plus luxury ensuites with shower or bathtub. Comfortable king-size beds and sofa beds sleep 2-4 pax in most rooms, and large private balconies offer Boracay views from your wicker loungers or outdoor sofas.
This is beach-chic, luxury living, with an exclusive feel to the villa. Helpful staff at the 24-hour front desk will assist with activities or tours, and there's complimentary WiFi and a complimentary shuttle service from the jetty upon arrival.
A-la-carte breakfast can be ordered at any time of the day, whilst Villa Caemilla Restaurant serves a variety of local and international dishes. All are served on the terrace overlooking the fabulous beach. You'll also be presented with a free refillable water bottle upon arrival to use throughout and after your stay.
Click here for more information.
Best Parts?
The larger suite rooms, with enormous balconies and iconic White Beach views. There is an exclusive feel to staying at a smaller property. The restaurant terrace overlooks the beach.
Worst Parts?
A little far from the main action of Boracay's White Beach.
Summary
If you're searching for on-the-beach Boracay hotels with family rooms or affordable family rooms in Boracay, this ticks the boxes. Spacious, bright and comfortable accommodation, with a private beach to enjoy too!
Click here for more information and the latest prices.
Map Of The Best Family Hotel In Boracay
I hope you found this guide to the best family accommodation in Boracay useful. Read all the best things to do in Boracay with kids and our complete guide on exactly how to get to Boracay here. You can also find our full guide to Boracay Island here.