Heading to Puerto Princesa and looking for the perfect itinerary for Puerto Princesa? Perfect! We can help in this Puerto Princesa itinerary blog.
The capital of Palawan, one of the most beautiful islands in the world, Puerto Princesa is another of our favourite destinations in the Philippines. Don't hurry past to El Nido, stop and stay awhile, discovering why this city has long been the go-to-vacation-destination for wealthy Manila families. Home to numerous natural wonders and environmentally-aware friendly people, the city is known as the greenest and cleanest in all of the Philippines.
What to do in Puerto Princesa, Philippines? Spend your days cruising the paradise islands of Honda Bay and exploring the famed UNESCO-listed Underground River at Sabang town. Learn the complicated, and often sad, history of the city at local museums, and admire the wood carvings at the Immaculate Conception Cathedral, dating back to Spanish settlers.
Nature treks at Sabang bring you face-to-face with monkeys, while boat rides glide you past magical fireflies, and crocodiles await you at the Palawan Wildlife Rescue and Conservation Centre.
Take it slow at paradise beaches or pile on the adventure with mangrove tours, waterfall treks, ATV and zipline rides… you're never lost for things to do at Puerto Princesa!
Below, you will find the ultimate itinerary: Puerto Princesa, Palawan! We walk you through options whether you have just a day in Puerto Princesa or are looking for a full Puerto Princesa 2 days itinerary or longer. You can simply stop following our itinerary in Puerto Princesa if your trip finishes in less than 3 days when you hit the number of days you have or pick the days that sound best from the itinerary below.
We also have a complete list of what to do in Puerto Princesa Palawan so you can decide if the stops in our itinerary are perfect for you. You will find all the options for Puerto Princesa attractions.
Finally, we also recommend some top places to stay in Puerto Princesa depending on your budget and some tips for visiting Puerto Princesa with kids.
Full Puerto Princesa Itinerary 2023
Remember, this is a full 3 days itinerary of things to do Puerto Princesa. If you have fewer days, simply pick the days that most appeal.
This can be either a Puerto Princesa budget itinerary or a luxury one – you can pick the quality of accommodation and activities to suit your budget.
Itinerary Puerto Princesa Day 1: Discover the charm of Puerto Princesa City
What to do in Puerto Princesa City? …after today, you will know the answer! Spend a full day discovering all the best places in Puerto Princesa, top attractions and more.
Start your day early, as you have lots to pack in. Either join an organised tour or self-discover the history of the city at:

Plaza Cuartel
World War II Museum
Palawan Heritage Centre

Take lunch at the Puerto Princesa City Baywalk Park
Time to rent a van-with-driver for this afternoon's adventures, taking in:

Palawan Butterfly Ecological Garden and Tribal Village
Baker's Hill for some sweet snacks
Palawan Wildlife Rescue and Conservation Centre
Iwahig Prison and Penal Farm

Return to your hotel to refresh and join an organised tour for dinner and firefly viewing, a highlight of Puerto Princesa night activities.
Itinerary For Puerto Princesa Day 2: Underground River Adventure!
Time for the crème-de-la-crème of Palawan activities Puerto Princesa offers, followed by Sabang adventures!

Another early start, to avoid the crowds. Join an organised tour to the most famous spot in Puerto Princesa, the world-renowned Puerto Princesa Subterranean River National Park.  
Choose to walk back to Sabang, by the Monkey trail.
Take lunch at Sabang beach, have a relaxing swim and sunbathe.
Dare to ride the Sabang X-Zipline, rent an ATV or try your hand at spelunking!
End of the day, return to Puerto Princesa and have dinner at your hotel.
Itinerary In Puerto Princesa Day 3: Honda Bay Delights!
Day 3 and there is still lots of things to see in Puerto Princesa, but let's take the day to discover beautiful Honda Bay.
Pack your sunglasses, sunblock and snorkel as today you'll enjoy island-hopping around the beautiful sandbanks and desert islands of Honda Bay, one of our favourite places in Puerto Princesa!  
After your full day trip, if still in the mood for the beach, head across to Nagtabon Beach or return to your hotel and join the locals at Baywalk for a fun-filled evening and seafood dinner.
Complete List Of Best Things To Do In Puerto Princesa Palawan
Plaza Cuartel
Located just across from Rizal Park and the Immaculate Conception Cathedral, this small park from the early 1940's has a dark history. Today, the iconic brick gate is all that remains of the structure that used to be a former military base.
Acting as a garrison of American and Filipino soldiers until the Japanese invaded, the park has a sad story with American POWs and Filipino imprisoned, then eventually burned in an underground tunnel directly beneath the park.
The memorial at the park's centre is the focal point, listing the names of the 143 American POWs that died, along with 11 survivors who lived to tell the tale. A quiet place, in honour of the fallen, the park is probably the most serene of places to go in Puerto Princesa, Palawan, with small benches set amongst the trees for quiet reflection.
Several information panels detail the history of Puerto Princesa during World War II, with interesting stories of battleship and air fights.
Address: Taft St, Puerto Princesa, Palawan
World War II Museum
As per most of the Philippines, during WWII the local area was controlled by the Imperial Japanese Army. In Palawan specifically, POWs were held to construct a Japanese airfield and kept under extremely harsh conditions.
Dr Higinio Mendoza, the ex-Palawan Governor, organised the first Guerilla Unit in 1942, guarding the shorelines and watching out for enemy activity. Eventually captured and killed by the Japanese, his memory and bravery are honoured by the Museum, opened by Dr Mendoza's son in 2011.
Dedicated to his father and others who died while in action, this little museum is high on our list of places to visit in Palawan, Puerto Princesa. Filled high with various war memorabilia, artillery and even vehicles, visitors can dress up in old uniforms and glimpse into the lives of these brave soldiers. You will also learn the contribution and bravery of the people of Puerto Princesa during World War II.
Address: Rizal Avenue, Barangay San Miguel, Puerto Princesa, Palawan
Palawan Heritage Center
An interactive museum in the heart of Puerto Princesa, the Palawan Heritage Centre offers guided tours to explain the rich culture, heritage and biodiversity of the region. Highlights include a section on local fine arts, hologram and dioramas of indigenous tribes, and archaeological finds from across the Palawan archipelago.
The tour spotlights the Tabon Skull Cap – found in Palawan in 1962 and said to date back to the Stone Age.  Found at Tabon Cave, amongst the earliest remains found in the Philippines, charcoal left at the cave has been carbon-14 dated to roughly 20,000 BCE. Also found at the site, and on display, is the Manunggul Jar dating from 890-710 BC.
Visitors also learn about the Tagbanua Tribe – one of the oldest tribes in the Philippines with a rich cultural history – and the South Sea Pearl, with Palawan, the best producer of this highly precious pearl.
Nature, history, adventure, people, culture and arts…all add up to a great way to spend a few hours, and unsurprisingly the museum has become a favourite of Puerto Princesa tourist attractions.
Address: Legislative Bldg., Fernandez St., Brgy. Tanglaw, Puerto Princesa City, Palawan
City Heritage Tour
This guided tour pulls together a slice of everything that makes the city special, stopping at all the best places to visit in Puerto Princesa, Palawan.
Away from the beautiful Palawan beaches, The Puerto Princesa City Heritage Tour takes you around the city in approx 4-hours, covering important historical and cultural buildings, wildlife, stunning vistas, local delicacies and more.
Discover the Palawan Wildlife Rescue and Conservation Centre – a sanctuary protecting local fauna, such as the Philippine crocodile, ostriches and bearcats. Next stop is Mitra's Ranch, offering a spectacular panoramic view of Puerto Princesa. On up to Baker's Hill, famed for its sweets including cashew nuts, hopia and brownies.
Binuatan Creations' Weaving Loom Centre is your next stopover, where you'll watch colourful handloom woven products being made from indigenous fibres. Have a go yourself or find some nice souvenirs to take away!
From here, it's a short trip to the Immaculate Conception Cathedral, site of the first Catholic Mass in Puerto Princesa during the Spanish era. On to Plaza Cuartel, the former garrison of Spanish and American soldiers, before ending your tour with a relaxing stroll down the Promenade and Baywalk.
Click here to purchase discounted tickets for this tour.
Puerto Princesa City Baywalk Park
This popular promenade stretches for 2km, starting at the US Embassy, passing by the Yacht Club and on to the Cultural Centre. Stroll the well paved walkway that hugs the bay with views out across the sparkling sea. Enjoy the cooling sea breeze and perhaps grab a bite to eat at the open-air cafes along the route.
You're more than likely to find street artists performing, live musicians or even acrobats putting on a show. Visit late afternoon and catch a beautiful sunset, or in the evening dine at a wide assortment of seafood stalls with the throngs of local people, making this a favourite of things to do in Puerto Princesa at night.
Address: Sandoval St., Puerto Princesa, Palawan
Bakers Hill
One of the top attractions in Puerto Princesa, Palawan and great if you have a sweet-tooth, Baker's Hill is – perhaps unsurprisingly – right at the top of a hill! Here, a few bakers work together to offer delicious baked treats for tourists and visitors.
 A strong family-favourite stopover, you can pick up pasalubong… baked treats to take home as gifts for friends and family.
Breads, hopia, pastillas, brownies and more, are sold in a fun environment with statues of Marilyn Monroe, Disney characters and a small garden with a mini aviary.
Address: Mitra Road, Puerto Princesa, Palawan
Island Hopping in Honda Bay
Just 45 minutes north of the city, catch a boat to island-hop your way around Honda Bay, possibly our favourite of activities in Puerto Princesa, Palawan. Visit stunning islands, with beautiful white-sand beaches and enjoy swimming or snorkelling in the crystal blue waters.
A full-day tour, taking around 7 hours, is the best way to experience Honda Bay. Head out early and start at Luli Island – taking its name from the sandbar that appears and disappears with the tide. The powdery cream-coloured sand is perfect for a sunbathe or cool off with a swim in the gentle emerald waters.
Next stop on your tour is Cowrie Island, a boomerang-shaped sanctuary with water sports activities such as banana boats and kayaks. On calm days, look out for schools of flying fish leaping over the gorgeous waters or grab your snorkel and fins, discovering the nearby reef. After, relax and enjoy a bbq lunch served directly on the beach.
In the afternoon, head on to Starfish Island – stunningly beautiful, one of the best places to see in Puerto Princesa. Here you have the chance to see hundreds of starfish just beneath the waves or in low tide all across the beach.
This is an epic Philippine-style day, spending hours on the sea enjoying sandbanks and deserted islands… just what holidays are made for!
Click here to purchase discounted tickets for this tour.
Firefly Watching
Wondering what to do in Puerto Princesa at night? Enjoy an evening in search of soft-bodied beetles, better known as fireflies or glowworms, that use their bioluminescence during twilight to attract mates or deter prey. In fact, the fireflies of Puerto Princesa are famous for putting on a breath-taking spectacle.
Start your evening with a delicious buffet dinner, before climbing aboard a boat to check out a nearby underground river. As dusk falls, the light show begins, with mangroves coming alive as fireflies repeatedly glow in unison, almost to a beat!
…and take time to look up at the star-filled sky, with the lack of light pollution presenting a fantastic site. Don't miss out on this trip to what is one of the most beautiful places in Puerto Princesa, and can also be a very romantic trip!
Click here to purchase discounted tickets for this tour.
Palawan Wildlife Rescue and Conservation Centre
A breeding and research centre for Philippine Crocodiles and home to endangered animals of the Philippines, a visit to the Palawan Rescue and Wildlife Conservation Centre is one of the top things to do in Puerto Princesa City. Guided tours teach visitors about the crocodiles and the environmental issues facing them.
View crocodile skeletons, an audio-visual presentation on the centre's programme, and for the highlight of the visit – The Hatchling House, with new-born crocodiles.
A small animal park – somewhat neglected – can be found at the rear filled with birds, snakes and smaller mammals.
Address: Puerto Princesa South Road, Puerto Princesa, Palawan
Palawan Butterfly Ecological Garden and Tribal Village
One of the most popular things to do in Puerto Princesa, Philippines, is to spend time at the Palawan Butterfly Ecological Garden and the adjacent Tribal Village.
The Butterfly Garden promotes environmental awareness by showcasing butterflies, insects and other endemic and endangered species. As you stroll through the enclosure, you'll see the different stages of butterfly metamorphosis, with displays full of caterpillar pupa. Fully grown butterflies from Southeast Asia fly freely around the area, often landing on your head as you wander the flora-rich gardens. And there's lots more to see – and touch – than just butterflies, with live exhibits of scorpions, lizards and more.
A recent addition, the adjacent Tribal Village showcases the culture of the Palau'an, a local indigenous group. Visitors have a chance to interact with native people from the tribe, learning how they hunt and use blow-darts, along with a demonstration of their traditional instruments.
A little touristy perhaps, it is however interesting to learn about the tribe and see their unique wooden carvings. Families, in particular, find both activities standout Puerto Princesa places to visit, with children marvelling at the large butterflies and often having a chance to try their hand at blowing darts!
Address: Santa Monica, Puerto Princesa, Palawan
Iwahig Prison And Penal Farm
Here's a stop you don't find on many tourist routes!  Supposedly twice the size of Paris, The Iwahig Prison and Penal Farm are one of the world's largest open-air jails. Instead of concrete walls, the prison is surrounded by a wire fence. A single guard at the entrance gate greets tourists and criminal's relatives without even inspecting them.
Home to around 3,000 prisoners, only 14km from the city, the Prison has become a novelty tourist spot, making a visit here a must-do in Puerto Princesa. Surrounded by thick coastal mangrove forest and a mountain range, the 26,000 hectare jail offers a unique approach to reforming criminals.
Farming and office duties are split between the inmates, with some responsible for taking care of the rice paddies, coconut plantations and cornfields. Trades, such as fishing, forestry and carpentry are taught, with a long term view of rehabilitation for all.
Visitors can drop in and mingle with the prisoners and perhaps catch a flamboyant dance routine!
Address: Bureau of Corrections, Puerto Princesa City, Palawan
Nagtabon Beach
Less than an hour from Puerto Princesa, Nagtabon Beach is stunning, with white sand and an idyllic atmosphere of swaying coconut trees. A photogenic tropical beach with clear waters and a long sweeping empty bay, making this perhaps the best place in Puerto Princesa. No commercialisation here, with only a few beach stalls and no phone signal.
Bring your lunch, rent a cottage and enjoy the chilled Philippines atmosphere.
During some seasons the beach can be windy, making it ideal for surfing and skimboarding – but you'll need to bring your own equipment.
Whatever you do, don't go home too early as the sunsets are stunners.
Address: Bacungan Highway, Sitio Nagtabon, Puerto Princesa City, Palawan
Click here to arrange a discount private car charter to Nagtabon Beach
Puerto Princesa Underground River National Park
The most famous spot in Puerto Princesa is the world-renowned Puerto Princesa Subterranean River National Park, added to the UNESCO World Heritage Sites list in 1999.
This famous Underground River is 8.2km-long, boasting jaw-dropping cave formations, stunning limestone cliffs and mirror-clear waters. Tourists can discover around 4.3km of the river on organised tours, with the best time to visit during the dry periods from November to May. Waves are calmer, the water clearer and there is less chance of cancellation due to the weather.
Approx 80km from Puerto Princesa, in Sabang, join an organised tour to secure the correct permit and to ensure a spot as the number of tourists is strictly controlled. (Don't forget to carry a valid ID for this trip.)
From Sabang Port, you'll join a boat taking you to the Underground River entrance. Once there, you jump to a smaller boat that will bring you inside, along with your tour guide. Once inside, the guide shines a searchlight to show you the cave's stunning stalagmites and stalactites, rock formations and sometimes the inhabitants… bats, birds and reptiles!
Taking around 45 minutes, you will eventually rejoin your larger boat to return to Sabang Port.
 A busy tourist spot, patience is always needed while queuing, but the unique rock formations make this an awesome experience.
We recommend going early and being at the Port by 7.30 am to avoid the larger crowds.
Click here to purchase discounted tour tickets which include an ATV jungle ride.
Sabang Day Trip
Once you've finished your Puerto Princesa Underground River activities, it is well worth hanging around Sabang for some fun adventures, nature exploration or idyllic beach relaxation…
After your underground river tour, choose to return to Sabang on foot taking the Monkey Trail. This 5km trail has a steep climb that goes through overgrown forests and around karst limestones. Keep an eye out for long tailed macaques – Asian monkeys – and endemic species such as monitor lizards.  
Sabang X-Zipline can be found by trekking 30 minutes from the Sabang mangroves up a small mountain. Standing 150ft above sea level and spanning 800 meters, guests whizz through the air while admiring scenic views of both the river park and the sparkling sea. Click here for discounted tickets.
Ugong Rock Adventures is a natural attraction, standing 75ft tall. This limestone formation is used for rock climbing, but there are many other adventures on offer here including zip biking, base jumping and trekking. Extreme adventurers can also enquire about spelunking. Click here for discounted tickets.
A couple of companies offer quad biking or ATV at Sabang Beach (see link above), taking you out on drives past local villages to a dirt track, where you can go crazy!
Before or after your Underground River experience, join a Mangrove Paddle Boat Tour, hoping to spot snakes, lizards and many birds.
Or choose to relax at Sabang Beach. A popular picnic spot for tourists joining the Underground River, it's a beautiful beach caught between towering mountain ranges and the blue sea.
What To Do In Puerto Princesa Map
Find all the Puerto Princesa what to do options on the map below.
Best Places To Stay In Puerto Princesa
Puerto Princesa City is the capital of Palawan and the only city on the island. Considered a modern city, in truth it feels more like a large town but is developing quickly with new malls and hotels springing up.
The largest concentration of hotels is in the city centre, surrounded by many bars, restaurants and shops. You'll find luxurious hotels, family-focused, mid-priced and budget-friendly inns, a complete array of accommodation.
Find whatever suits you best by considering the local ambience, the rate, or the most convenient location. To help you start, I've listed a few different places to consider including a budget, mid-range and more expensive option.
In the heart of uptown Puerto Princesa, this hotel offers modern rooms that are a perfect base for exploring the city and local area.
120 guest rooms and suites – split between deluxe, premier, family and suites – are stylish and elegantly designed in warm inviting colours. All are soundproofed for a peaceful sleep and feature a sitting area, air conditioning and shower.
This five-story hotel offers a range of wellness and dining options, with an outdoor swimming pool, fitness centre, massage service, and Anibong All-day dining restaurant and Balayong Grill and Bar.
Click here for the latest prices.
Conveniently located in the heart of Puerto Princesa City, only a few minutes from the International Airport, this hotel newly opened in 2018 has 32 rooms.
Select from deluxe, standard or superior rooms, with twin or double beds – offering air conditioning, bath amenities, satellite television and private bathrooms with showers.
This 3-star hotel serves a continental breakfast at the Cafe Lounge & Bar (open daily from 6 am-10 pm) and has free WiFi and free private parking. Guests enjoy a 24-hour front desk, room service and currency exchange. Airport shuttle is also available for free, and there is a small onsite spa and wellness centre called Anya Spa.
Click here for the latest prices.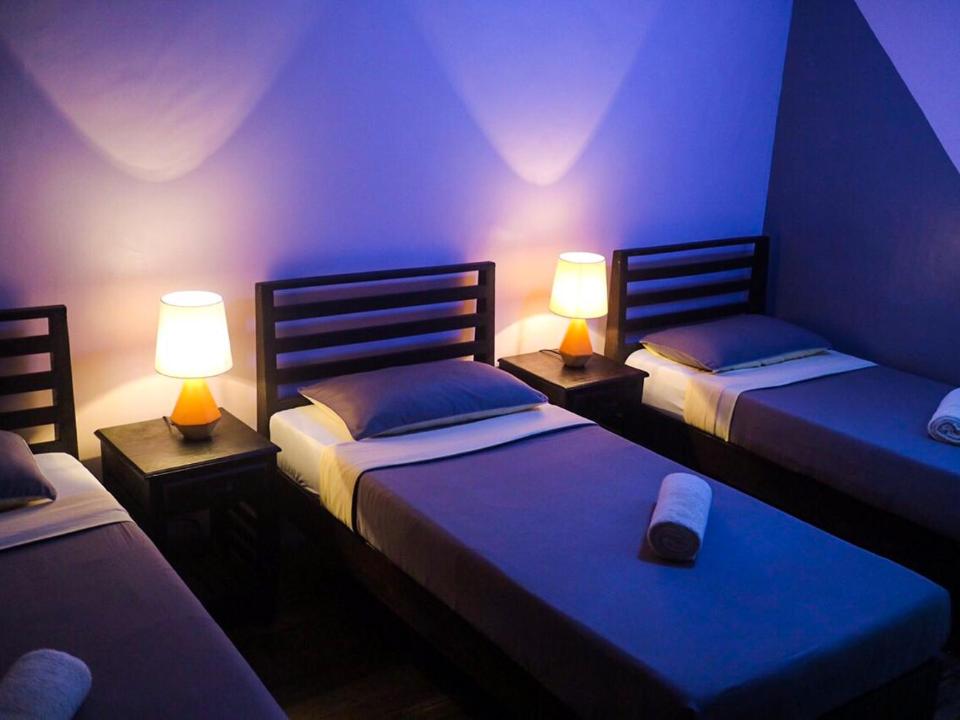 Again located in Puerto Princesa City, the Hostel Privado offers accommodation with private balconies. Boasting a spacious terrace, the hostel is nearby to the city's main attractions such as the Palawan Museum.
Rooms come in numerous setups, such as 4-bed dormitory, standard double room, triple-room and family room with bathroom. All rooms feature a sitting area, have air conditioning and a desk, and up to two children under the age of 7 can stay free of charge when using existing beds.
Free parking and free WiFi is offered, and the reception area has an ATM. A helpful 24-hour front desk is available, where staff are more than happy to help arrange tours.
Click here for the latest prices.
Visiting Puerto Princesa With Kids
The gateway to one of the 7 natural wonders of the world – the incredible Underground River – Puerto Princesa offers many other wonderful attractions and activities that make this a satisfying location for families.  Sometimes overlooked for El Nido, the city is surrounded by beautiful nature and filled with history and culture.
Spend a day island-hopping at Honda Bay – snorkelling and enjoying beach fun. Slow things down with a day discovering the city, visiting the local markets – fresh fish, fruit and vegetables. Children enjoy seeing all the different seafood displays, and Filipino vendors are always very welcoming!
Spend an afternoon learning about Palawan's history, which spans from pre-colonial cultures to WWII, through to modern times. Start at the Palawan Museum for an overview of the indigenous groups found on the island, and next drop into the World War II Museum – always a favourite with their war vehicles, weapons and dress-up uniforms. End your day with a walk along Baywalk, finding tasty grilled seafood at a local vendor.
Next morning it's time to head out of the city, possibly with a rented van or trimotor. Baker's Hill, with its bread and cakes, is always a popular family stop. On to the wonderful Butterfly Garden and Tribal Village, where children of all ages enjoy the butterflies and – perhaps more so – the insects on display… do you dare to hold a scorpion or a snake?
Wander across to the adjacent Tribal Village to catch a display from the members of the Palawan tribe, with children often invited to try the traditional instruments and blowing of arrow-darts. End your day at Stellar Grounds, an open-air food market with over five restaurants. You'll also find here a trampoline and some climbing structures for the children to enjoy.
Time now to tick off a day at Sabang, with a visit to the famous Underground River. All ages adore this trip… for the boat rides, the amazing cave entrance, the spookiness of the torchlit rock formations and more! And after, depending on the age of your children, hang around Sabang for lots of adventures or check out the beach.
Not leaving Puerto Princesa yet I hope, as you still have lots to discover, including scenic beaches and the Palawan Rescue and Wildlife Conservation Centre, with massive crocodiles and some cute babies!
Puerto Princesa is a friendly large town, with many diverse activities for families with children young or old. Follow our suggested itinerary of things to do in Puerto Princesa with kids or jump in a colourful jeepney and see where the journey takes you!
How To Get To Puerto Princesa
Accessible by air, with both international and domestic flights, Puerto Princesa is easily reachable. Serviced by many airlines, you have the option of established and low-cost budget airlines such as AirAsia and Cebu Pacific. To see all the latest flights and prices, click here.
The alternative is to arrive by sea, usually from Manila or from Coron, both taking approx 11 hours. If travelling by ferry, it is advised to pay the extra for a higher level of ticket.
If you are already in Palawan, at El Nido, you can hire a van or travel by bus overland approximately 5-6 hours to Puerto Princesa. To see the latest ferry and bus options and prices, click here.
We also have a range of guides on how to get to Puerto Princesa.  If you're coming from Coron, click here or if you're coming from Boracay click here.
Final Words
Puerto Princesa, the gateway to Palawan Island and once the secret holiday destination for wealthy Manilans, is well worth hanging around for a few days. Often acclaimed as the cleanest and greenest city in the Philippines, it offers a wide range of attractions from beaches to wildlife reserves… and of course, that Puerto Princesa "must do"… the UNESCO Underground River.
Let the Filipino people welcome you to this seaside city!
We hope you enjoyed this sample itinerary for Puerto Princesa and the complete list of things to do in Puerto Princesa, Palawan, Philippines. We also have a guide for an El Nido itinerary here or check out our guide to the best islands in the Philippines here.  You can find all our other guides to Palawan here.