Heading to El Nido and looking for the perfect El Nido Palawan itinerary? Perfect! We can help in this El Nido itinerary blog post.
Let's be honest; even the name sounds exotic… Famed for its clean white beaches, crystal-clear waters, and the dramatic limestone cliffs of Bacuit Bay, El Nido is everything and more than you anticipate. Spend lazy days bopping around on emerald seas – island-hopping to hidden lagoons – or hang in hammocks, surrounded by palm trees and breath-taking views.
The ultimate paradise vacation destination that doesn't need to break your wallet, visitors delight in long stretches of empty beaches, marvel at the colourful underwater world of the marine sanctuaries that teem with tropical fish, and end days relaxing shoreside watching world class sunsets.
Away from the water, El Nido offers other delights such as lush forests full of flora and fauna, with endemic animals and an abundance of birdlife. Other adventures await with an exploration of local caves and hikes to waterfalls, a thrilling Zipline between two islands, a canopy walk and a lively town for things to do in El Nido at night.
One of the most popular destinations in the Philippines, El Nido is a place everyone should tick off at least once!
Below, you will find the ultimate itinerary: El Nido, Palawan! We walk you through options whether you have just 2 days in El Nido or are looking for a full El Nido itinerary 5d4n. You can simply stop following our Palawan El Nido itinerary if your trip finishes in less than 5 days when you hit the number of days you have or pick the days that sound best from the El Nido DIY itinerary below.
We also have a complete list of what to do in El Nido Palawan so you can decide if the stops in our itinerary are perfect for you. You will find all the options for El Nido activities.
Finally, we also recommend some top places to stay in El Nido depending on your budget and some tips for visiting El Nido with kids.
El Nido Itinerary 2023
Remember, this is a full 5 days itinerary in El Nido, Palawan. If you have fewer days, simply pick the days that most appeal.
This can be either an El Nido budget itinerary or a luxury one – you can pick the quality of accommodation and activities to suit your budget.
El Nido Itinerary 1 Day: Epic El Nido: Lagoons, Beaches and Fish!
Starting with the most popular activity in El Nido to do, join the full day El Nido Island Hopping Tour A to discover the beauty of Bacuit Bay.
Head to El Nido beach and barter your way to an excellent deal for Tour A, one of the best things to do in El Nido
Enjoy swimming at any two of the famed three lagoons: Small Lagoon, Big Lagoon, Secret Lagoon, and explore or relax at 7 Commando Beach and Shimizu Island, all top El Nido tourist attractions
Back to El Nido, discover El Nido Town proper for dinner, full of lively bars and restaurants
Click here for discounted tour A tickets now.
El Nido Itinerary 2 Days: El Nido Inland Adventures
Rent motorbikes, scooters or join an organised van-tour to discover the local nature and beaches, ticking off some of the top 10 places to visit in El Nido, Palawan.
Start early with a visit to El Nido Public Market, stocking up on provisions for today's trip
After breakfast, head out to Makinit Hot Springs, before the heat of the day makes this an uncomfortable spot to visit
Drive on to nearby Nagkalit-Kalit Waterfalls for an invigorating 40-minute trek up to the falls, refreshing with a chilly swim in the Jungle Pool
The final stop of your day are the awesome twin beaches of Nacpan – a truly iconic beach and one of the places to visit in El Nido Palawan – and Calitang, a great spot for sunset
Head home and dine at your hotel, before finding a fun karaoke bar for an evening sing-song
El Nido Itinerary 3 Days: Snorkelling or Diving Delights
On day 3 of your El Nido 3 days 2 nights itinerary, it is time to discover the best place in El Nido… the underwater world… with a day spent either snorkelling or diving.
For snorkelling enthusiasts, head to El Nido beach and join Tour C, possibly the second most popular of all the tours and full of epic snorkelling points
Visit Secret Beach, Hidden Beach, Star Beach, Helicopter Island (a highlight of El Nido Palawan places to visit) and a final stop at Matinloc Shrine. …and of course, somewhere along the way enjoy a great BBQ lunch!
Once back in El Nido Town take a 15-minute tricycle ride to Papaya Beach to end your day with a last epic snorkel before catching another great sunset.
For divers, prebook a full day's dive from any one of the many operators found in El Nido Town proper. Stand out spots include Miniloc Island, with four dive sites, Twin Rocks, Banayan Point and Bikanayos Rock.
Finish the day with a well earned drink beachside, watching another El Nido epic sunset… or it is sadly time to depart if you are enjoying an El Nido itinerary 3d2n.
You can book a luxury tour C here.
El Nido Itinerary 4 Days: Waves and Kites at Duli and Sibaltan
Pre-arrange a full day's van-rental for this El Nido itinerary 4 days, and head to Duli to catch some waves, followed by a visit to awesome Sibaltan, with its wild 2km of coastline.
First stop of the day is at Duli Beach for surfing lessons with Mike
After a bite to eat at the onsite local restaurant, head off to Sibaltan
Drop by the Balay Cuyonon Museum to discover the traditions of this local tribe
Try your hand at kitesurfing at Sibaltan Beach or sit back and spectate
For dinner, stop off at any one of the beaches near to El Nido for beachside alfresco dining… or it is farewell time if you're enjoying an El Nido itinerary 4d3n
Alternative 4 Day El Nido Itinerary
For the ultimate Filipino experience, don't just stay in El Nido and do day tours, consider island hopping between El Nido and nearby Coron.
You can easily do a private tour which can stop where you please as you make your way between these places with your own private crew for 4 days/3 nights. It's surprisingly affordable.
Click here to read more about exactly how you can do this.
It's something you will remember forever.
El Nido Itinerary 5 Days: Something Different, El Nido Style
Wondering what to do in El Nido, Philippines today? Challenge yourself by trying something different… followed by a last lazy afternoon at the beach.
The choice is yours this morning, from any one of the below:

Reach the top of Taraw Cliff – either dramatically via a guided self-climb or the safer El Nido Canopy Walk. Located in Town proper, this is one of the El Nido best things to do.
Try a freediving experience, learning to control your breath underwater
Rent a clear-kayak for self discovery of Bacuit Bay's lagoons and beaches
Discover the birdlife of El Nido, all 279 species!
Head back out to sea for Tour B, taking in the awesome Cathedral Caves

Towards the end of the afternoon head to Las Cabanas Beach for a dramatic Zipline whiz between two islands or taking the more scenic return via a beautiful sandbank. Definitely one of the top 10 things to do in El Nido.
End your day at any one of the bars or restaurants at Las Cabanas, catching the iconic sunset and planning out your next visit!
Complete List Of Best Things To Do In El Nido Palawan
Island Hopping Tours
Discovering the hidden gems of Bacuit Bay archipelago is the reason most visitors arrive in El Nido. Drawn by the crystal clear waters that teem with schools of fish, starfish, sea urchins, colourful corals and turtles, island hopping tours are the most popular activities in El Nido.
Official tours, labelled Tour A, B, C and D, depart from El Nido around the Bay. Banca and speed boats are on offer, and you should ensure to barter a good deal. Join with fellow travellers to reduce rates or hire privately for the ultimate experience.
Enjoy a half or full day snorkelling and kayaking over reefs, enveloped by towering walls of jagged rock that cradle Robinson-Crusoe-styled inlets. Drop anchor and dine on freshly cooked fish, local fruits and refresh with coconut juice.
The four tours are unique, but on all tours, you'll visit islands, beaches and snorkelling points.
Tour A – lagoons and beaches
Tour B – caves and islands
Tour C – snorkelling and a shrine
Tour D – island beaches
Bacuit Bay, El Nido attractions include Miniloc, famous for its two lagoons – the Big Lagoon and the Small Lagoon – and the islands of Matinloc and Tapiutan. Keep an eye out whilst swimming for elusive dugongs, graceful manta rays, cheeky sea turtles and much, much more!
Days spent exploring jaw dropping Bacuit Bay are truly memorable. Grab sun lotion, snorkel and fins, and discover what has made El Nido world-famous.
For discounted tickets for these tours click the following links: Tour A (super cheap), Tour B in a luxury wooden boat,  Tour C in a luxury speedboat, or Tour D in a luxury catamaran.
Alternatively, you can also do a 4 day/3 night island hopping tour between El Nido and Coron.
This may be the ultimate Filipino experience and will definitely be something you don't forget.
Click here for all the details.
Cathedral Caves
One of the highlights of Tour B, Cathedral Cave is a unique rock formation that is a top favourite for El Nido visitors. Named after its narrow, high-ceilinged entryway, visitors need to (dare to!) swim inside to discover the interior. Lit in parts by a natural hole in the ceiling, the deep interior is dark and noisy from the waves, making this a thrilling adventure. Huge stalactites and pillars surround you and the water is often filled with an incredible luminescent light.
But beware, as tour guides relate fables of sharks, rays and other bizarre animals said to have been spotted inside…!
Balay Cuyonon Museum
The Cuyonon tribe of Palawan, with ancestors traced back to early settlers and traders such as Chinese, Arabs, Indians, Malays and Spanish, were known for their customs and unusual style of living.
Located along Silbaltan's beachfront, the Balay Cuyonon Museum features a replica of a traditional Cuyunon house, fully-furnished with tools and decor – almost all authentic.
An interactive museum, this is an ideal stop for families, as young children will enjoy banging on the drum that Cuyonon mothers used for calling home their children, playing with traditional toys or trying on a raincoat made from thick woven plant leaves.
A quiet and small museum, it provides an interesting insight into the tribe's history and customs. …and be sure to combine with a walk along Silbaltan's 2km spectacular beach.
Address: Sibaltan, El Nido, Palawan
Nagkalit-Kalit Waterfalls
Away from Bacuit Bay, Nagkalit-Kalit Waterfalls is one of the main tourist attractions in El Nido, Palawan. Just an hour outside of El Nido Town at Pasadena, the falls are located deep in the forest. Travel by jeep on an organised tour or self-discover by renting motorbikes, and enjoy this magical waterfall with a great "jungle pool" at the base that's ideal for a cooling swim, making this one of the best places to visit in El Nido.
From the roadside, it's a 30-40 minute trek from a local village to the falls. Enjoy a back-to-nature feel, as you trek alongside green rice fields, spotting carabaos and horses, and cross through some low-running rivers. Prepare to get your shoes and feet wet!
Combine this with a visit to the splendid Nacpan Beach.
Address: Pasadena, El Nido, Palawan
Makinit Hot Springs
Just 20km from El Nido Town, Makinit Hot Springs is a popular stop on all Inland Tours, in fact one of the top places to visit in El Nido. But be warned, it's a dusty and pot-marked road that leads you to the Springs, muddy if it's been raining recently.
Expect the unexpected here, as there are no concrete pools and it's impossible to swim. Watch your step as near to the Spring it turns muddy and you'll feel the heat coming up from the ground.
Enjoy the unspoilt nature of the place and heat of the water that can boil eggs… definitely a stranger "El Nido must do"!
Address: Brgy. Makinit, El Nido, Palawan
Las Cabanas Beach Zipline
Here's something you don't find every day… a zip line between two islands! Definitely one of the most unique things to do in El Nido, Philippines.
Located at Las Cabanas Beach – one of the best places in El Nido – just 15 minutes from El Nido Town, the Zipline platform is easily spotted at one end of the beach. Head uphill on a small hike from the main road, taking you to the bamboo structure. After a safety briefing, strap in for a thrilling ride!
Fly 750-meters across a coconut fringed beach and out over the sea to Depeldet Island… making this one of the world's most picturesque zip lines and one of the best things to do in El Nido, Palawan.
You have the choice of sitting or superman position, and can either take a one-way to Depeldet Island or return to your starting position. We recommend taking the one-way and returning via the stunning sandbank that connects the two islands.
Address: Corong-Corong, El Nido, Palawan
Sunset At Las Cabanas
The beach at Las Cabanas faces west and offers one of the best places to go in El Nido to catch a spectacular sunset. The setting fireball disappears over a horizon speckled with islands and cliffs that are silhouetted against the sky, making for some dramatic photos.
The beach offers a handful of bars to unwind at, some with fire pits and chilled tunes. Or, in the fading sunlight, try your hand at gentle watersports such as SUP or kayak, a relaxing way to finish your day and both top things to do in El Nido.
Hang around for dinner at the beachside restaurants and marvel at the stunning star-lit sky.
Address: Corong-Corong, El Nido, Palawan
Swim At Local Beaches
Discovering the beaches of El Nido is an epic day out! A favourite destination for beach enthusiasts, it doesn't disappoint with picturesque scenery at every turn and some of the best beaches in the Philippines.
Possibly the most famous of El Nido places to visit are the inland twin beaches Nacpan and Calitang. Adjacent strips of white sand, these beaches are a short tricycle ride from El Nido Town proper.
Nacpan Beach is a quiet and serene spot, a far cry from busy El Nido Town. Bare, undeveloped, it stretches for an awesome 4km of fine white sand, cushioned by tall palm trees on one side and lapped by turquoise waters on the other.
Walk across to Calitang Beach and up the small hill at one end that offers a great photo spot of both beaches. Sunsets in Calitang are also spectacular, with the orange sky reflected in the calm waters, a highlight of things to see in El Nido.
Corong Corong Beach is another perfect place to chill out for a few hours, with shallow waters making this ideal for families with younger children. A hidden paradise, there are a handful of homes built on stilts right on the beach, making this spot a great way to discover local life.
End your day at Marimegmeg Beach or nearby Las Cabanas, both great for catching an epic sunset and top of the most romantic things to do in El Nido. Easy to reach from El Nido Town proper, these are popular settings, with activities such as biking, hiking, cliff-jumping, fishing, kayak, SUP and snorkelling.
Surfing
Duli Beach is an uncrowded and remote stretch of beach that is a haven for surfers, definitely the best place in El Nido Palawan for cutting some waves! Known as Surfer's Paradise, season dependent you can find some great waves (especially in the rainy months). Approximately 20 minutes from El Nido Town proper, rent a scooter for a cool ride through the lush interior countryside.
Search out Mike for renting a long or short surfboard (hence the beach is sometimes known as Mike's Point), and if you're lucky, he will help with some lessons too. More details here.
Kiteboard/Kitesurfing are growing attractions in El Nido Palawan, with the best location being Sibaltan approximately 42km from El Nido Town proper. Once there, look for Qi Palawan Kiteboarding, located within Qi Palawan Resort, a small eco-resort.
Sibaltan is a rustic village, with a long empty stretch of beach offering fantastic views. Through November to March fierce winds rip through it, providing some great conditions. If staying overnight, you'll find some very cheap shoreside accommodation but little other entertainment in this sleepy end-of-the-world feel village.
Diving And Snorkeling
Dating back almost 250 million years, Bacuit Bay is one of the world's top diving and snorkelling sites. Basically a huge slab of ancient reef, Bacuit Bay offers some of the highest levels of marine biodiversity in the world.
Snorkelling is fantastic as the Bay is shallow and the marine habitat diverse. Coral reefs are home to a myriad of colourful fish, such as schools of damselfishes and large parrotfishes in eye-popping patterns.  Check out Tour C for some of the best snorkelling spots around the Bay.
Inland, Papaya Beach is perfect for snorkelling fans, with reefs just a few feet from the shore. Ideal also for children who don't want to swim out too far to spot colourful fish.
Whether you enjoy shallow dives or vertical walls, night dives or deep dives, El Nido has them all! With 20 dive sites, all within 20 minutes of the town, this is a dive-enthusiasts paradise. Macro highlights of the area include seahorses, nudibranch and a plethora of crustaceans. Big fish include reef sharks, rays, schooling jacks, snapper, barracuda and groupers. And loveable turtles are seen at most dive sites.
The ultimate El Nido Palawan attractions, you'll find numerous companies in El Nido Town proper offering snorkelling and diving trips, including PADI operators, or check with your hotel.
Click here for a discounted scuba diving course for beginners in El Nido.
Free Diving
In El Nido's calm and clear waters, why not take advantage of these ideal conditions and try something a little different.
Learn to free dive with a two day course, with no prior diving experience necessary. A combination of theory and in-water training will help you master different freediving techniques. By the end of the course, you'll be diving between 10m and 20m for 1-2 minutes!
Are you already experienced? An underwater wonderland awaits you. Join a tour to some of the best dive sites in El Nido, where you will find submerged seamounts, amazing rock formations and huge walls covered in coral. …or for the more adventurous, underwater tunnels and caves.
Kayaking
You don't need to join an organised tour to enjoy kayaking in El Nido. Rent a kayak from El Nido Town or the ideal location is Corong Corong Beach ten minutes outside of Town. Splurge on a clear kayak, giving an awesome twist to your trip, easily spotting colourful fish and corals. And, if with your partner,  take a double-kayak for double-the-fun!
Pick up some drinks and snacks, a waterproof bag with swimwear, water shoes, sunblock and sunglasses, set your GoPro and head off to explore nearby islands. Stop off at beaches, coves and lagoons, relaxing or snorkelling. At these quiet spots lookout for monkeys, hornbills and big monitor lizards, before heading out to explore the next bay.
Prefer the reassurance of kayaking with a group? You'll easily find a half or full day group tour, taking you around the calm waters and lagoons of Bacuit Bay. Bear in mind that some of the spots you'll visit are already included in the Island-Hopping A, B, C, D tours, so aim for somewhere new.
Away from busy boat crowds, kayaking is a wonderful way to explore Bacuit Bay and is an especially awesome angle from which to catch an El Nido sunset.
Bird Watching
Looking for things to do in El Nido aside from island hopping, something unusual and not regularly suggested in "top ten things to do in El Nido" listings? Why not spend a few hours discovering the wildlife of Palawan.
At the northern tip of Palawan, El Nido is home to an extensive area of old growth forest which holds several of the locally threatened species, such as the beautiful Palawan peacock-pheasant and the majestic Palawan hornbill.
With fauna and flora more closely related to that of Borneo, there are over 279 species of birds found in Palawan! Join guided tours of the area and have your cameras at the ready. Contact Wild Expeditions Palawan for more information.
Climb Taraw Cliff
Offering the best viewpoint in El Nido Town proper, climbing Taraw Peak – which rises 230 meters at the rear of the town – can be arranged via various local agencies. A popular pre-sunrise activity, you'll be equipped with gloves and a guide, and should expect a 4-6 am-ish start.
Definitely one for the thrill-seekers, taking approximately an hour each way, this is a challenging climb/scramble, with vertical steps (without any hold-ropes) and sharp limestone rocks. Prepare to break a sweat on this!
If you're afraid of heights, leave this one out. However the view from the top is simply breath-taking… but then the descent is even harder!
You can buy discounted tickets for this attraction by clicking here.
El Nido Canopy Walk
Looking for the same view as from the top of Taraw Cliff, but without the challenge? Head to El Nido Canopy Walk (El Nido Taraw Via Ferrata), where man-made steps with a combination of bridges and platforms, take you up in ten minutes to admire the spectacular view across El Nido Town and out to Bacuit Bay.
Armed with a helmet, guide and attached to a zipline, you will easily reach the viewing platform by a short walk up safe stairs and secure scaffolding. Open 8 am-5 pm, thrill at the scenic view and crossing a 75 meter long suspension bridge. Still challenging for anyone scared of heights, this is an extremely safe way to reach the top for splendid El Nido views, making this the top of things to do in El Nido town.
Address: Rizal St, El Nido, Palawan
Visit The Public Market
It's an early start for this one, as every morning from 4 am the El Nido Public Market opens to sell fruits and vegetables from nearby farms, and freshly caught fish.
Drop by for a slice of real Philippine life or to search out some goodies before your full day kayak, island-hopping or road trip.
It is near Corong-Corong beach, on the side of the main road.
Address: Rizal St, Brgy. Corong Corong, El Nido, Palawan
Things To Do In Palawan El Nido Map
Find all the El Nido Palawan things to do on the map below.
Where To Stay In El Nido
There are so many accommodation options, it is easy to get flummoxed when trying to settle on the most ideal El Nido location. Options range from hostels to luxury Palawan hotels, from the lively and ideally-located El Nido Town proper to nearby beach resorts, to the crème-de-la-crème exclusive remote island resorts.
El  Nido Town is a small beach town that retains a rustic vibe. The beach is super busy, with island-hopping and diving bancas constantly departing and arriving, speed boats whizzing lucky guests off to remote island resorts. Restaurants, souvenir shops and tour operators can be found in the town, with a surprisingly wide range of cuisines catered for.
Looking for somewhere quieter, check out hotels at the beaches nearby El Nido Town. Offering a more "holiday destination" atmosphere, these mostly open out onto the beach, have small bars or restaurants facing the sea, with prime sunset-positions.
Or splurge for the ultimate stay at any one of the 5-star island resorts sprinkled throughout Bacuit Bay. Villas on stilts in calm lagoons, beach villas, private-pool villas, luxury spas, alfresco fine dining and luxury speed boats for island hopping tours… all add up to perfection.
Below I've listed a few different places to consider including a budget, mid-range and more expensive option.
Picture-postcard perfect, Cauayan Island Resort is everything your mind conjures up when thinking of the Philippines. Tropical flowers, lush palm trees and beautiful wooden thatched villas – some on stilts over the lagoon, at the beach and dotted throughout the green middle of the island – are waiting to offer you a true slice of heaven!
A strong contender for the best El Nido 5 star hotel, the Resort is famed for its outdoor infinity pool, with the restaurant decking wrapped alongside. Dine under the stars on stunning cuisine, served by attentive staff… whilst gawping in awe at the star-filled sky at this remote location.
Approx 25 minutes by speed boat from El Nido Town beach, the resort offers rustic villas with modern interiors, with the majority having outdoor showers and some with private pools. A luxury spa, built on stilts at one end of the lagoon awaits you after your busy day island-hopping and snorkelling.
The inhouse dive team offer up to 15 dive sites, or try your hand at kayaking around the island – with a packed lunch if you want to make a day of it. Yoga, sunset-cruises, island guided treks and more can be arranged at this stunning resort.
Click here for the latest prices
Ideally located at Corong Corong, just outside of El Nido Town proper, this hotel is encased by a 5000sqm coconut grove and tropical gardens. Relax and unwind at this traditional Philippine resort.
Garden villas or deluxe rooms – mainly simple thatched villas – are scattered throughout the property. Featuring wood, rattan and wicker furniture, blended with modern elegant bathrooms, there's an air of old-Philippines and years gone by.
Guests snooze in their wicker hammocks or enjoy in-room massages after days busy touring the area. Relax at the outdoor pool or enjoy a nice sunset cocktail from the poolside bar.
With a slight boutique feel, friendly staff and a chilled, relaxed atmosphere, this is our standout mid-range selection.
Click here for the latest prices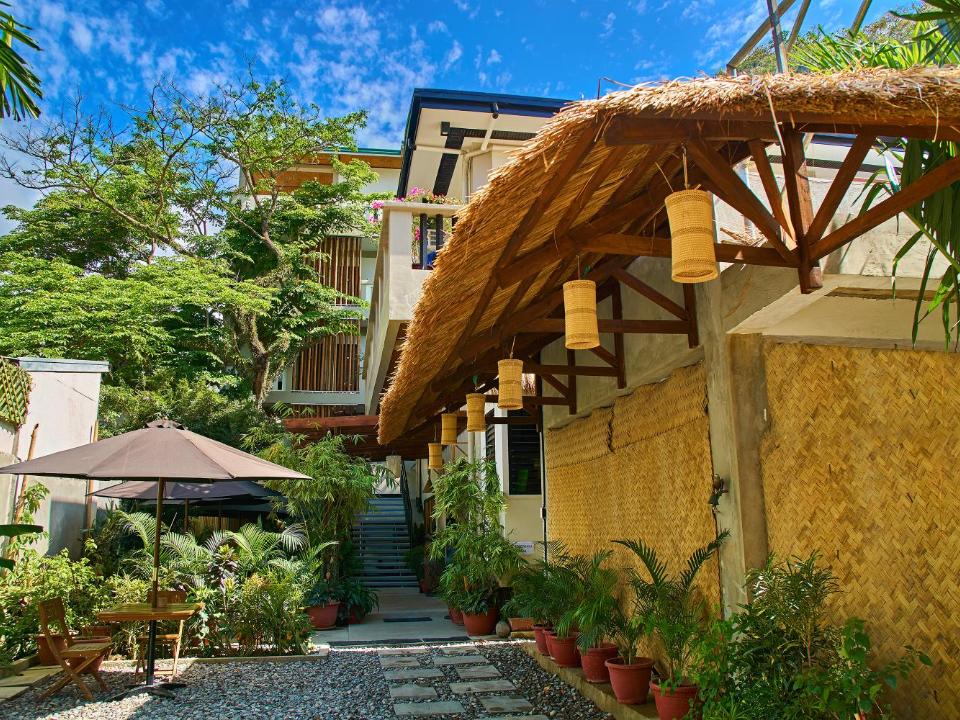 Only six minutes from El Nido Town beach, this is the best place to stay in El Nido on a budget. A 2-star basic boutique bed and breakfast, the hotel is heavily tailored towards foreign clientele… with a Filipino twist.
Traditional bamboo walls and trellises mix with modern furniture. Chill out tables under sun umbrellas, subtle lighting and exotic plants all help to emit a relaxing environment.
Rooms are air-conditioned, with cable television and daily housekeeping. All budgets and room sizes are catered for, with a mixture of bunk beds, queen and quadruple rooms.
Breakfast buffet is served until 9.30 am, and there's an inhouse restaurant – Lanai-at-Amakan – available for dinner, 6-9 pm.
Click here for the latest prices
Click here to see all our recommendations for the best places to stay in El Nido.
Visiting El Nido With Kids
In a nutshell, El Nido is a fantastic family destination. Children adore island-hopping, spotting hundreds of fish without even leaving the boat, hand feeding them with bread in the shallow lagoons, jumping on and off the boats in calm waters and exploring beaches with incredible cliffs that bring to mind the Jurassic age!
Safety onboard the bancas is well addressed, with adequate life-jackets, onboard advice before setting out and friendly helpful guides. Children love the snaking sandbars, catching fish on hand-lines, climbing hills for great island vistas, drinking from freshly cut coconuts, exploring caves and more!
Other El Nido top things to do with kids include water sports such as SUP, kayak and sailing. Trying a fun surfing lesson, picnicking on numerous gorgeous beaches, riding around the local area in fun tricycles, gliding along a thrilling zipline (for teenagers), and walking the canopy bridge up to Taraw Cliff for awesome early-morning views are just some of the top things to do in El Nido.
Finger-licking beach BBQs for lunch and vast dining options for dinner in El Nido Town (with doughnuts, pizza and ice-cream parlours) or alfresco dining under starry skies around swimming pools or beachside, suit even the pickiest of eaters.
Less than 30 minutes from El Nido Airport, the transfer is nice and short for parents with young children. Travel between December and March, avoiding the super hot months of April and May, ensuring to pack spray for mosquitoes and sand-flies. Follow our El Nido Palawan itinerary 3d 2n or take it slower spreading activities across an El Nido Palawan itinerary 5d 4n.
There are many things to do in El Nido with kids, making this a safe, fun and nature-filled beautiful Philippines family vacation destination.
How To Get To El Nido
El Nido is part of Palawan, a long island in the south of the Philippines. Home to two airports, Palawan has an international airport in Puerto Princesa, and a domestic airport at El Nido, with flights daily from Manila, Cebu and a handful of other Philippine locations.
Aim to arrive at El Nido Airport, as it's a 5-6 hour overland drive from Puerto Princesa. However, flights are limited into El Nido and it is a very small airport that is sometimes closed in bad weather, thus select which option suits your travel plans best. To see all the latest flights and prices, click here.
You can read our full guide to traveling from Puerto Princesa to El Nido here.
Another way to reach El Nido is by sea, taking a ferry from Coron (approximately 4 hours) or other surrounding islands. Aim for a fast-craft and pay for upgraded seating whenever possible.
To see all the latest ferry times and prices, click here.
Read our guide here on getting to El Nido from Coron
Final Words
There are countless reasons to visit beautiful El Nido, from its splendid marine life and the islands of Bacuit Bay, to its world-class beaches, lagoons and lush inland hills. Epic sunsets, alfresco dining night-after-night, waterfalls, caves and more… all presented by fun-loving Filipino who enjoy nothing more than sharing with visitors their love for the country.
Numerous treasures await your discovery, book now!
We hope you enjoyed this sample itinerary for El Nido Palawan and complete list of things to do in El Nido, Palawan, Philippines. We also have a guide for a Puerto Princesa itinerary here or you can read our perfect Palawan And Coron Palawan Itinerary..  Find all our other guides to Palawan here.