Heading to Siargao Island? Lucky you! It's a beautiful part of the world. Now that you've decided to go, you need to find the best accommodation in Siargao, Philippines according to your budget and requirements. And that's what we will help you with here!
Siargao is one patch of paradise in the Province of Surigao del Norte that is rapidly making a name for itself in the tourism trail.  From white sandy shores gleaming in the sunlit sky, to aquamarine seas, coconut tree lined coastlines, lush mangrove farms, and adrenaline filled surfers gliding along the raging waves, Siargao has all that and more.
If your idea of a holiday entails a homely, laidback setting, where you can easily blend with the locals, and still experience some degree of privacy combined with dashes of entertainment and adventure then Siargao could very well be your next holiday destination. And yes, we can help you narrow down your Siargao Island accommodation choices to complement your taste and budget.
In this article, we will help you find the best places to stay in Siargao Island no matter what your budget or preference may be.
So, whether you are looking for beach resorts in Siargao Island, the most romantic beach villas in Siargao, cheap hotels in Siargao Island or the absolute best hotel in Siargao Island, depending on your budget, we have you covered.
Here is our list of the best accommodations in Siargao as well as some information about what these places have to offer in terms of amenities and comfort to tourists.
Comparison of The Top 10 Options for The Best Place to Stay in Siargao Island
Where to Stay in Siargao Island
Siargao Island is one travel destination that is synonymous with fun, adventure, and relaxation.  The island is endowed with an amazing topography- from sugary white shorelines, aquamarine waters. serene coves, stunning islets and abundant mangrove forests, among others.  More importantly, it is also home to one of the best surfing spots in the world located in the municipality General Luna- the Cloud 9.
But not all of Siargao waters are conducive to surfing, hence the local tourism has developed other equally fun activities, like kayaking, parasailing, hiking, island hopping, diving, kite flying, and even restaurant and bar hopping.
So, whether you're traveling alone to destress whenever you feel like the city life becomes too much to handle; whether you are travelling with family or a loved one to celebrate a milestone, or simply visiting for fun and adventure, the local tourism industry takes pride in promoting a wide selection of cheap resorts in Siargao as well luxury accommodations positioned in different areas of the island, catering to every whim and interests of tourists.
In this paradise island, resorts and hotels are endlessly contending for the crown of the best hotel in Siargao Philippines.  Some are content though with the recognition as the best beachfront hotel in Siargao, if not the number one surf resort Siargao.
To help you decide where to stay in Siargao 2021, we give you more information below about the top options of the best area to stay in Siargao island so you can pick a good accommodation that complements your needs.
General Luna
For surfers, and surfing aficionados, hotels in General Luna area are the best Siargao Island resorts to stay.  The world-famous surfing spot is also located in this neighborhood.
This area is also the best option for a first-time traveler looking for where to stay in General Luna Siargao in order to get the feel of the Siargao tourist life.  Restaurants, catering for the simplest vegetarian and plant-based choices, to mouth-watering seafood and meat selections are also found here.  More importantly, nightlife abound in General Luna.
As cliché as it may sound, but the best tagline for General Luna could very well be, "Life is here."
Catangnan
For budget travelers and backpackers, the best answer to where to stay in Siargao cheap is the Catangnan neighborhood.  Located North of General Luna, this area is also a haven of many watersport activities including surfing, and the area is teeming with the best and affordable resorts in Siargao, Philippines, if not the cheapest hotel in Siargao Island one can find.
In Catangnan, the colorful and sought-after smoothie bowl of Shaka Café is a must have.  The tasty Filipino fare at Harana Surf and Bar are equally famous treats as well.
Pilar
If you are a traveler with children, locals and even returning tourists are quick to point out the Pilar neighborhood as having the best resorts in Siargao for family and big groups.
This area, though slowly taking the lead as a tourist retreat of the island, is not yet as vibrant as that of General Luna. Families will relish a dip in the famed Magpupungko Lagoon amidst the backdrop of the stunning rock formations.  For there is no visit to Siargao without casting an admiring glance at the picture-perfect lagoon and rock formations, at the very least.
San Isidro
Staying in San Isidro area is the best option for travelers who want to destress.  Restaurants, beaches, and bars still abound in this area but this neighborhood is less touristy than most communities in Siargao.
Try a home-cooked meal at Kookaburra, satisfy your craving for a beer and pizza at Greg's Pizza and Beer, walk barefoot along the shores of Himaya North and South, and many other activities and attractions.
Top 10 Best Resorts in Siargao Island, Philippines
Below are reviews of our top 10 resorts in the island of Siargao
Address: Barangay 5, Poblacion, General Luna, Siargao Islands
If there is one beach front resort in Siargao that has enjoyed favorable reviews all year-round then it would be Isla Cabana.  Customers rave about the amenities, good food and how well the staff pampered them during their stay.
This 4-Star, Siargao best resort is located within the downtown area. Isla Cabana resort boasts of modern amenities with free WIFI access, 24-hour security, an outdoor pool and private beach.  This option for the best luxury resort in Siargao also offers a variety of water sport activities and related equipment rentals.
Villa accommodations surround the property with breathtaking views of the coastline, so much so that when the sun finally calls it a day, a guest is treated to a spectacular view of the setting sun with the fusion of colors illuminating the clear waters of the beach.  Not bad for a weary traveler who longed for rest and relaxation.
Click here for more information.
Best Parts?
With the sumptuous meals served by the hotel's in-house restaurant, Isla Cucina, exceptionally accommodating staff, state of the art amenities and a spectacular view of the setting sun, it is no wonder guests rave about this establishment as a formidable contender for the best hotels in Siargao, Philippines.
Worst Parts?
Despite the raving reviews, a few customers complain at times about the unpleasant smell of the water from the shower. Accordingly, the staff explain that the strange smell is synonymous with the deep-well water since the resort's water is sourced from a sanitary approved deep-well, and not from a commercial water service provider.
Summary
A 4-star resort on an island, with modern amenities would seem like a dream come true.  Except that Isla Cabana Resort is not a dream, and the dancing colors illuminating the clear waters at sundown are physically tangible. This is the perfect choice for anyone looking for the best beach resort in Siargao Island. It's gorgeous!
Click here for more information and the latest prices.
Address: Tourism Road, General Luna, Siargao Island
Just a few minutes away from the world-renowned surfing spot, Cloud 9, another resort in Siargao with pool, and with 4.5-star rating, has earned positive reviews from clients as well. In this resort, guests are treated as VIPs!
From free airport transfers, free access to the spectacular pool at the size of 1,600 sqm, free shuttle service to nearby Cloud 9 compound, access to Wi-Fi, world class massage service, and timely and regular assistance to many other island eco-adventures and watersport activities, this luxury facility is considered to be one of the best Siargao Island hotels. It stops at nothing until customer service is perfected and personalized for its every client.
Bicycles, gym facilities are likewise available for free.  Food is superb. The service extended by the hotel staff- from the front desk, to the drivers and crew of various departments within the establishment are equally encouraging.
Click here for more information.
Best Parts?
Superior amenities and best service from the staff are top rate at this hotel. You can also add in great food to the pluses of this hotel. No doubt about it, Siargao Bleu Resort and Spa is a run-away winner in the battle among the top resorts in Siargao.
Worst Parts?
A few reviews mention unreliable WIFI access.
Summary
The merits of this resort far outweigh its downsides. This resort is top among the choices for best  Siargao hotels and resorts.
Click here for more information and the latest prices.
Address: Old road, Catangnan, General Luna, Siargao Islands
This mid-range accommodation comes in nipa-hut inspired cottages with modern amenities including air conditioning. The surrounding palm trees and greenery which abound in the area also provide a modicum of privacy in between cottages, and gives off a "paradise feel" to staying guests. A modest pool also services the guests who prefer a more private dip than the nearby beach.
Located about 2 kilometers away from the famed Cloud 9, this beach resort Siargao island is a smart choice for a best place to stay in Siargao for family and groups.  It has a family bungalow that can accommodate 5 persons; smaller family cottages for 2-3 persons, and a studio cottage for 1-2 persons. A hot tub is also made available to staying guests.
Parking and WIFI access are also provided free of charge to customers, as well as a restaurant serving breakfast with a la carte menu.  Happy hour is available nightly at the resort bar.  It is regrettable, however, that airport pick up and drop off are charged separately.
Click here for more information.
Best Parts?
The greenery surrounding the resort gives out a calming ambience and this is a retreat resort Siargao Island. For those who are fond of evening entertainment, the bar is an added bonus. One doesn't need to go out from the hotel to indulge in a night of dancing, wine and music. The nipa-inspired cottages have also added up to the cool and relaxing feel of the resort.
Worst Parts?
This will not necessarily qualify as worst by ordinary standards, but for a mid-range resort, free airport pick-up and drop off even at scheduled intervals could be a plus point that will entice more customers.
Summary
This resort, even with the airport transfer charges, still stands out among its competitors as a best resort in Siargao Philippines.  After all, there is a public transport system plying the route of the airport to this resort. Also, the surrounding greenery, the location and the well-manicured lawn along with the nipa-hut inspired cottages are part of the irresistible package offered by The Hillside Resort Siargao.
Click here for more information and the latest prices.
Address: Tourism Road, Catangnan, General Luna, Siargao, Surigao del Norte
A boutique hotel within General Luna area, about 2 kilometers away from the Cloud 9 strait and Guyam island has certainly met the criteria as a best hotel to stay in Siargao. Kalipay Resort Siargao is equipped with modern amenities and free access to WIFI.  It has a homey and very relaxing feel with the palm trees, and other greenery adorning the resort grounds.
Of all the merits a hospitality facility can have, a service-oriented and accommodating staff make up the bulk of its strength and competitive edge, and here in Kalipay Resort Siargao, the staff are more than happy to serve and assist their guests in the best way possible.
The good thing about this resort is that though it is in close proximity to Cloud 9 and the entertainment joints along General Luna, this is still quite far-off from that circuit, and thus has managed to maintain a fairly quiet and serene environment, enough for it to enter the league of the best hotels in General Luna Siargao.
Click here for more information.
Best Parts?
The crowning glory of this resort facility is its accommodating staff and relaxing atmosphere.  This is the best place to stay if you want to recharge your energies and spend time with yourself. You can easily hop onto a tricycle or motorcycle whenever you feel the need to rejoin the world.
Worst Parts?
Again, this cannot be counted as worse, but one drawback of the resort is that its restaurant is not yet fully operational.  But eateries and food stalls abound along the stretch of road where the resort is located and are readily accessible by tricycles and other forms of public transport.
Summary
Overall, Kalipay Resort is counted among  Siargao best resorts and, based on the raving reviews of guests, it's just too hard to find something wrong with this resort because every aspect of its services and hotel facilities are well thought of. Hence, it is no wonder that Kalipay Resort is one of the highly recommended Siargao places to stay for a guaranteed comfortable stay.
The non-operational restaurant is quite negligible since construction is already underway with an opening date at the soonest possible time.
Click here for more information and the latest prices.
Address: Catangnan, General Luna, Siargao Islands
Not to be left behind among the highly recommended resorts in the island is the Reef Beach Resort.  A high end property with beautifully landscaped nooks and corners to spruce up important events such as weddings, company team building activities, sports competitions, and birthday celebrations, among others, this facility highly qualifies as the best beachfront resort in Siargao.
Recognized as Trip Advisor's 2018 Travelers 'Choice, the property is equipped with a bar and a restaurant.  Designed to accommodate all types of travelers, the facility can accommodate family and group travelers in their 1/2/3-bedroom apartment suites, some with cooking facilities.  Guests can choose between the beach view, garden view, pool view rooms and studios.  Thus, this establishment is highly recommended for those asking where to stay in Siargao for groups and families.
If you can manage to pull yourself away from the relaxing stupor, you can actually hop into the property owned boat (with separate charges, of course) and take a leisurely ride to nearby islets and coves. There are also in-house motorbikes for rent which you can use in going around the island. The management thought of the health buffs too.  That is why a fully equipped gym is installed for those who cannot do away from their fitness regimen even while on holiday.
There are water sports activities for children and guests who are raring to be in the water all the time.  All these, coupled with savory restaurant food and well-trained staff, make up for a hassle free and memorable Siargao experience.
Wait, there's more!  Early risers and guests who have chosen to stay in ocean view rooms and apartments are rewarded with a glimpse of the first miracle of the day—right when the sun teases the wide expanse of the skyline with its glory and radiating splendor.  How's that, for a morning treat?
Click here for more information.
Best Parts?
The well thought out facilities for every type of customer, well-crafted sports activities, outdoor adventures along with savory meals, accommodating staff and a relaxing landscape guarantee a fun-filled and well cherished experience in one of the best Siargao resorts.
In Reef View Resort, you have everything you need in one place, and more. This is how the best resorts Siargao Island pamper their guests.
Worst Parts?
There are customer reviews about the WIFI access being slow and unreliable. This issue is common in the country, and something that can be improved on over time.
Summary
In terms of amenities, service, and value for money, Reef View Resort is very much competitive.  It is one Siargao beach resort that makes it their business to create snippets of beautiful memories for their guests and clients to remember for years after their visit in Siargao island.
Click here for more information and the latest prices.
Address: 1 Bulan Villas, Tourism Road, Barangay Catangnan, Siargao Islands, General Luna, Surigao del Norte
Bulan, which is roughly translated as "moon" in Visayan language, always has this mysterious pull over mankind. A quiet moonlit night evokes a sense of melancholy and an overpowering sense of oneness with the universe.
Honeymooners and loved up guests who have been to Bulan Villas have drawn up their own tagline of the resort as the most romantic beach resort Siargao island can offer. Be that as it may, Bulan Villas can easily stir up the same impression from other guests.
At night, with its dimly lit villas illuminating the darkened corners of the greenery patched grounds,  it is a haven, a refuge from the steady blows of daily life. Come daylight, it remains a haven but with an added dimension- it is also home, in the simplest and most rustic vibe.
By its simplicity, it doesn't follow that the resort lacks the modern amenities required of a well-functioning accommodation. Believe me, the villas which are made of indigenous materials (thatched roof made from nipa palm leaves and wooden interiors), are well designed taking into consideration the comfort and privacy of guests.
Located in the heart of Catangna in General Luna, this resort facility is cozy and comfortable with only 14 well-designed rooms distributed in 4 villas. Among the 14 rooms, 8 are so-called fan rooms with shared hot and cold bath and shower facilities.
Fan rooms have direct access to the pool area.  These rooms are best for travelers on a budget and for backpackers. You get to enjoy the facilities and the rustic feel of a haven away from home at a relatively low price.
These rooms, however, do not come with complimentary breakfast. Owing to the impassioned inference of loved up couples about the romantic feel of this facility, a villa here is deemed as one romantic villa Siargao island can be proud of.
The rest of the 6 rooms are air conditioned with private bath and shower facilities, private balcony and complimentary breakfast for two. Air conditioned rooms are a bit pricey compared to the fan rooms but they offer a good measure of comfort and privacy to guests.
Honeymooners and those who are looking forward to their own private time while on holiday can grab a piece of heaven and home in any of these air conditioned rooms at Bulan Villas.
In other good news, it has a well-functioning restaurant serving continental and Filipino dishes as well authentic Italian style pizza for dinner.  There's more, the restaurant has a wide selection of Italian wines that suit even the most astute wine drinker.
No doubt about it, Bulan Villas is an emerging hospitality hub, and a resort in Siargao Island Philippines, that is in the league of the top hotels in Siargao island.
Click here for more information.
Best Parts?
This facility, aside from being a private haven, is also an advocate of environmental protection.  They don't allow the use of disposal plastic bottles for drinking water and other beverages. Hence, guests are advised to bring their own reusable water bottles and can get refills from the facility's water station.
Worst parts?
Owing to its reputation as a haven of sheer relaxation and romance in the most exclusive fashion possible, guests accompanied by children must inform the facility ahead of time so they can make the necessary preparations to at least "child-proof" the common areas.  For guests whose feet are constantly itching for a swipe in the dance floor, this is not a place for you.
Summary
Bulan Villas has undoubtedly matched its name with the calm and easygoing vibe of its surroundings. It may be devoid of the trimmings and the infrastructure make-up of the state of the facilities of high-end resorts, but its minimalist feel does not diminish its allure.
Click here for more information and the latest prices.
Address: General Luna, Siargao Islands
Like the thought of adorable townhouses meticulously put together in one big compound complete with greenery and a well-manicured lawn and with the sight of the sandy shores just across the street? Well, this is not a cut from a scene of your favorite rom-com movie. This is all about The Village Siargao – another worthy addition to the constellation of "favorites" among Siargao resorts.
Located in Barangay Malinao, in General Luna, this 3-star resort is composed of 7 cottages, equipped with amenities that one can find in luxurious hotels, but minus soaring prices.
The only downside is that guests do not have direct access to the beach.
Click here for more information.
Best Parts?
This accommodation guarantees a comfortable stay at a reasonable price.  It is also quite near the Cloud 9 surfing area as well as the bars and restaurants. Hence, The Village Siargao is still a better choice. In this establishment, there are no "buts" and "and if onlys". It just allows the guests the sole choice to be spellbound, and compare their stay to an experience in a 5-star resort in Siargao.
Worst Parts?
Perhaps the reason why despite its modern amenities and adorable landscape this resort did not command soaring rates for their rooms is the fact that it does not have direct access to the beach.  But then, this is not totally a problem. One can frolic in the nearby beach all day, or bike around the other touristy areas of Siargao, or even dance the night away in nearby bars and entertainment hubs then go home to the peace and comfort of The Village Siargao!
Summary
This hotel is good for solo travelers who want to experience what Siargao has to offer to a wandering soul without spending too much on accommodation costs.  This is also good for couples and small families traveling on a budget and consciously looking for an affordable resort in Siargao
Click here for more information and the latest prices.
Address: Lampara Siargao, Sitio Tuason, General Luna, Surigao del Norte
Once in a while, in the middle of life's odd turns, we long for nooks and crannies where we can de-stress and watch things unfold in the most ordinary way possible.  Siargao's relaxed and idyllic air has undoubtedly fit the bill.  More so, reason dictates that an accommodation as modest as Lampara Siargao Boutique Hostel could also be a smart choice for a Siargao cheap stay.
Located in the busy section of barangay Catangna, this simple and moderately priced accommodation has all the more fueled conjecture that a budget friendly and cheap accommodation in Siargao thrive in this area of General Luna.
Just 5 minutes away from the talked-about Cloud 9, Lampara Siargao boasts of cottages and structures that are simple and made of indigenous materials, and grouped together to form a village-like commune.
It offers shared accommodation in an airconditioned dorm-like setting with bunk beds and shared amenities including bathroom facilities and personal lockers, and an outlet for charging phones and gadgets.
Free breakfast (light breakfast of cereals or fruits) are also included in the package. This dorm-like option is definitely a showpiece of the beauty and comfort of a cheap stay in Siargao despite the mushrooming high-end hotel development taking shape in many parts of the island.
They also have air conditioned glamping tents equipped with a queen size mattress, shared bathroom facility, mosquito net, chest locker and also complimentary breakfast. The glamping tents offer an amazing view of the beach, which again, supports the notion that comfort and fun need not dig a big hole in your pocket.
Another option is the Deluxe Cabin. Each deluxe cabin has its own toilet and bath, one queen size bed and another 2 single beds. This is ideal for group travelers. Complimentary breakfast is likewise included in the room charges.
Likewise, this facility has a common lounge and dining area, a barbeque drill for those inclined to do DIY meals, and also a decent snack bar.  These are common features in a Siargao cheap accommodation.
Again, depending on your taste and lifestyle, relatively low-priced accommodations are practical. Others quip that a cheap place to stay in Siargao doesn't make much difference because you will be out all day, and only go back to your hotel to shower and sleep. This contention in my opinion, also makes sense.
Click here for more information.
Best Parts?
The accommodation options are wide-ranging depending on the preference and budget of a customer. Also, the location is within the tourist area.  If a guest intends to have the best of their visit to Siargao,  if they're adventurous when it comes to food, entertainment options and keen on exploring the many sides of Siargao life then this is the best accommodation option.
Worst Parts?
Privacy is not guaranteed in this resort. This resort is conducive for adult guests only, hence the management imposed a no-child policy in this hostel.
Summary
For the fun-loving, adventurous and thrill-seeking guests, this could be the best way to get a feel of Siargao life. It's not everyday that one could experience a village-like commune while on a holiday.
Click here for more information and the latest prices.
Address: Sitio Sta Inis,Pang pang, General Luna, Surigao del Norte
This modest hostel which is also located in Catangna is managed and owned by a husband and wife team. Guests often describe this hotel as a home away from home. It has budget friendly room rates with decent amenities, and the privacy that a guest requires.
Guests can choose to occupy single, double, triple and dormitory type rooms. It has a very functional lounge area with a fridge where guests can relax by themselves or hang out with fellow lodgers. A kitchen and dining area with available utensils are also provided for guests which is an upside of Siargao cheap resorts- you can prepare your own meals and get to try local delicacies without spending too much.
What's more, the staff goes out of their way to assist their lodgers, be it with issues in their rooms, airline bookings and even Siargao island tour options.
Click here for more information.
Best Parts?
This cheap accommodation in Siargao Island is homey, not really near, but not too far either from the maddening crowd of the touristy General Luna area.  One can relax, enjoy the privacy of this hotel, and just hop into a rented motorcycle to explore the rest of General Luna and Siargao whenever he/she likes it.
This hostel provides a respite, a breather from the hustle and bustle of island life, until you are ready to bounce again for another adventure.
Worst Parts?
One needs to rent a motorcycle or tag along with other guests who can drive (if you don't drive a motorbike) when going out or exploring General Luna or the whole of Siargao.  There is not much public transport in this part of Catangna.
Summary
For those travelers who have in mind a combination of rest and recreation for a good price, this is a great place to stay.  It is affordable, with a laid-back feel, and not too close to the touristy area, but near enough if you're craving a burger or a few hours of fun in a karaoke bar.
Click here for more information and the latest prices.
Address: General Luna, Surigao del Norte
Balay Hayahay is roughly translated in English as "Comfy Dwelling." And indeed, this facility is living up to its name- simple, comfortable and reasonably priced.
For one, the cottages made from native materials ( nipa palm and bamboo) are artistically built and decorated – resembling the famous Philippine Bahay Kubo, with a contemporary twist   ( the amenities inside the hut like the mattress and air conditioning unit are modern anyway).
The facility resembles that of an old village in the Philippines countryside many, many years back, except that the cottages within the Balay Hayahay homestay are closer to each other, while nipa huts long time ago are built far from each other, if not at all isolated.
Click here for more information.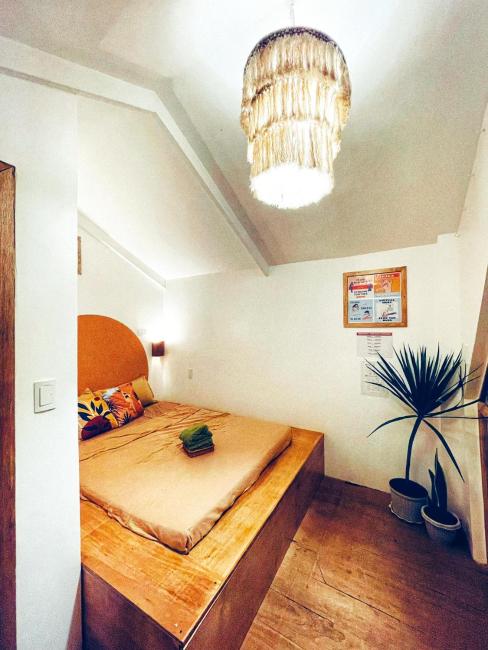 Best Parts?
This is the best way to experience the simple life in the countryside. This homestay, which is considered to be a cheap resort in Siargao, is spelling out what going back to the basics is all about.  To a certain extent, Balay Hayahay is teaching us a lesson, that we have to eventually pay for our excesses, at some point or another, and that living simply or downgrading can be a lifesaver.
Worst Parts?
This type of accommodation may not necessarily appeal to everyone, especially for those who are used to staying in posh hotels and resorts. But for its unique amenities and competitive price, this facility could still be a contender for the best Siargao hotels.
Why not? It's not every day that a hotel or any accommodation for that matter, teaches a guest to appreciate their roots, and to understand that having fun need not be expensive. We are living in a world that is consumed with overspending and consumerism, and Balay Hayahay is a breather from the environment that we are used to.
Summary
This is the closest a guest can get to experience living in the Philippine countryside.  For young adults who didn't get a chance to savor the simple joys of living in the countryside, for foreigners who are eager to get a feel of Philippine rural life, Balay Hayahay is a must try.
Click here for more information and the latest prices.
Map of The Best Hotels in Siargao, Philippines
I hope you found this where to stay in Siargao blog useful and found the Siargao best place to stay for your needs whether you were looking for budget accommodation in Siargao or romantic villas Siargao.
Read our guide on getting the Cebu to Siargao ferry here, all the best things to do in Siargao here or you can find our full travel guide to Siargao here.