Going on a Siquijor trip and want to know all the best things to do in Siquijor, Philippines? We have you covered! Below you will find our guide to all the best places to visit in Siquijor Island to plan your ultimate trip.
If you're familiar with the Philippines then you'll have heard of Siquijor in relation to black magic, mystic and sorcery tales. But exploring the island doesn't bring you face-to-face with anything spooky – in fact quite the opposite. The only secrets here are some of the country's most scenic views, the friendliest of locals, and peaceful, quiet beaches.
Beautiful and safe, this off-tourist route island should be discovered now before it becomes a  mainstream tourism destination. Siquijor is blessed with so much natural beauty – lush jungle vegetation, secluded beaches protected by coconut groves, enchanting caves with freshwater rivers, stunning sunset vistas, and too many waterfalls to name!
Everywhere you go there's a chilled vibe, and with the island being so small you can easily explore without a guide. Rent scooters or motorbikes and travel on well made empty roads, and enjoy coastal drives or adventures on jungle trails. As with all the islands in the Cebu region, there's exotic marine life and coral reefs to discover too.
The island is well known for its festivals that focus on healing rituals, when the older locals make potions out of herbs, roots, insects and tree bark. 
Known as the Isla Del Fuego, thanks to an abundance of mystic fireflies, this remote island has a night sky that will blow your mind! Join us in getting to the root of the real magic of Siquijor!
Below, you will find our Siquijor things to do blog with everything you need to know about the best tourist attractions in Siquijor Island, the best places in Siquijor, as well as exactly what to do in Siquijor Island for your ultimate holiday!! We also include a handy map, the top accommodation choices and an itinerary for Siquijor.
Top 15 Best Things To Do In Siquijor, Philippines
Here are the best Siquijor tourist attractions. Read through and select the ones that fit your interests and timeframe.
Refresh At Cambugahay Falls
Possibly the most photographed place in Siquijor, this stunning 3-tiered waterfall is regularly plastered on airport billboards and in the top Philippines articles. It's no surprise, as the falls produce many lagoons that are brilliantly blue in colour, and filled with crisp, clear warm natural spring water that sparkles in the sunshine, making this possibly the most famous tourist attraction in Siquijor, and one of the best waterfalls in the Philippines.
Don't come expecting a dramatically high waterfall (it's better to head to Kawasan Falls at Tigbawan Village for that). Instead, the focus here is more on lagoon fun, though the wide falls of Cambugahay definitely have their own charm.  
There's some Insta-worthy jumps from the surrounding rocks, a tarzan swing (infact multiple rope swings), rubber rings, gorgeous nature everywhere you look. There's even a bamboo raft ride (at the first level).  You can also pick a spot to relax whilst watching the locals swing and somersault in circus-worthy style.
The most popular level for swimming is the third level. Locals and tourists cheer each other on to make increasingly dramatic waterfall jumps, and you'll find some ideal picnic spots alongside.  Bring food and drink with you as there's little to buy except at a couple of local stalls at the entrance.
The best way to reach here is by motorbike, with the roads in pretty good condition. Parking is just 50-metres from the falls and it takes around 40 minutes (28km) from San Juan town to reach Lazi. You can usually rent scooters for around 400 peso per day, but if you don't fancy the drive, barter a deal with a local trike driver and catch a ride. From the parking lot there's around 135 steps down, but it's a fairly easy walk that's ok for kids too.
Entrance is free, with parking around 20 peso, and life jackets available to rent. You'll pay for some of the fun, such as the rope swing which was 50 peso when we visited (but that gives you unlimited swings = super fun!).  You can rock up anytime from 7am-5pm, but it's best to go early in the morning on a weekday to avoid the crowds.
Take along your underwater camera as the lagoons are super clear and you'll capture some unusual shots. Wear non-slip shoes as the rocks get pretty slippery and can be sharp too. Don't forget to stop and relax alongside the rushing water, as the wind in the swaying trees and the running stream make it an atmospheric jungle-paradise spot – one of the most beautiful places in Siquijor.
Dip Your Toes Near The Mystical Balete Tree
Siquijor is renowned for its witchcraft and faith healing tales, and the Mystical Balete Tree is part of this folklore and a favourite of Siquijor attractions!
What's a Balete Tree? They are part of the ficus or fig tree family, growing throughout the Philippines. Locally known as "stranger figs", they grow beside other trees before later strangling them with their roots that grow downwards, eventually killing them. 
The story goes that balete trees are the house for mysterious and mythical creatures at night.  Stories include how they carry out rituals in front of the trees, giving thanks for the home and protection. Elves, horse demons and fairies are just some of the mythical creatures mentioned!
One of the most famously known balete trees in the Philippines is that in Lazi, Siquijor. Said to be over 400-years old, it is the biggest and the oldest in the province. Yet what makes this tree particularly famous isn't its great age, but the natural spring that flows right underneath the tree.  Supposedly clean enough to drink, locals claim not to know where the water comes from.
Folklore stories aside, balete trees are wonderful to see – massive in height, haunting in appearance thanks to their large twisting roots (that seem to strangle its own trunk), and vines draped everywhere. It's quite easy to understand why they're the centre of scary stories!
You can add on a side visit here after your trip to Cambugahay Falls, as they are both in Lazi or stop-off on the way to Salagdoong Beach. Grab some photos of the impressive tree before sitting down at the nearby natural spring pool where fishes swim, nibbling at your dead foot skin – a natural foot spa like no other!
Entrance is completely free, but there is a request for donations to upkeep the area. The tree is visible from the road, thus it's easy to reach and you can view anytime from 6am – 6pm. If you're feeling peckish, you'll find a small shop with a restaurant on the upper floor in the grounds of the Century Old Balete Tree. 
Walk The Pristine Sands Of Salagdoong Beach
On the eastern side of Siquijor at the town of Maria (around 30 minutes drive from Cambugahay Falls or 50 minutes from San Juan) is secluded Salagdoong Beach. On an island that has 102km of coastline, this is not "just another beautiful Philippine beach" – Salagdoong offers jaw-dropping cliff jumps and terrific snorkelling/diving options.
Owned by Hotel Agripino (the Salagdoong Beach Resort), the beach is open to visitors at any time with the on-site canteen open daily from 8am – 10pm.
Not a long beach, Salagdoong is made up of two small bays, both filled with fine, soft white sand and shielded by swaying palm trees. The small beach is very chilled, where you can sit back and appreciate being in Siquijor. Kids play, teenagers hangout and families enjoy rowdy beach-fun and bbqs.  
There's some great snorkelling and diving here, attainable just by walking out from the beach.  Brilliantly clear turquoise water is filled with tropical fish feeding on the nearby reef, plus you should spot some large clams and many sea-stars. If you're feeling brave, why not join the locals and the odd tourist that come here for the iconic cliff jumps?
In truth, the jumps seem relatively foolproof (and there's a lifeguard on duty to help out), but definitely aren't a walk in the park to leap from! Two concrete ledges await, one a fairly simple 20-ft jump, whilst the second is rather a stretch at 35-ft!  If you're planning on flinging yourself off these, don't delay – you need to just go for it, rather than stand and think about it.
If that sounds a little too daring, you can take the easier route of the adjacent slide which tips you into the ocean at a much lower height. However you enter the water, ensure to firstly check that no-one is hanging around under the jumps or slide, and don't attempt these at low tide.
We've seen many cliff jumps throughout the Philippines, but this spot has become rather famous and one of the must-visit places in Siquijor thanks to social media. In fact, we spoke to a couple of tourists that had only ventured to Siquijor to make the jumps!  
If you're short on time, you can make a great day of a visit to Cambugahay Falls in the morning followed by relaxing at Salagdoong Beach in the afternoon. Expect to pay a small entrance fee of around 30 peso per person at the entrance to the hotel, and an additional 20 peso for parking. Schedule-in around 2 hours here – one of the best places to go in Siquijor – before exploring other parts of the island.
See The Lovely Winged Creatures At Siquijor Butterfly Sanctuary
A great short stop over on your Siquijor island exploration, this butterfly sanctuary is located at Cabilao Village in Larena Town.  
Entrance of 100 peso grants you passage through to the garden which, though small, is home to a handful of species of butterflies and a few dragon flies too.
If you have the kids in tow, they'll be interested to see the different stages exhibited – from brilliantly coloured caterpillars to pupa and beyond. All ages are delighted as butterflies swarm around heads or settle on opened palms. Remember to wear bright colours to attract them to you (or not if you don't want to)!
The mountain views up to the property make the visit more than worthwhile and one of the places to see in Siquijor. Plus the friendly owner/guide happily explains each species, how they breed, their long term plans for introducing butterflies to the island, and more interesting facts.
Located at almost the highest point of the island, at Cang-apa Village, east of Mt Bandilaan, you'll enjoy island and ocean views.
Snorkel The Underwaters Of Tubod Marine Sanctuary
In the municipality of San Juan, Tubod Marine Sanctuary is top of Siquijor places to visit if you're looking to experience the magical marine life of the Philippines. Protecting the reef which stretches in front of Tubod Beach and Coco Grove Beach Resort, this 7.5 hectare sanctuary shouldn't be missed!
The reef is excellent as it is very close to the shore (which is a brilliant long stretch of white soft sand). As you swim out, there's firstly a large algae and sea-grass bed that slopes slowly down to a reef that's covered in live hard corals. A spot noted for its high biodiversity, within the protected marine sanctuary turtles are plentiful, along with potato-head grouper, stations of large clams and much more.  
Access to the reef is simple by walking out from the beach at Coco Grove Beach Resort or via a small boat that can be moored to any of the buoys positioned alongside the sanctuary. You'll find a line of white buoys all along its boundaries making it safe for all, with no motorised boats allowed to enter or anchor in this area.  
If snorkelling isn't enough, check out the adjacent Sea Explorers dive shop or ask at the Coco Grove Dive Centre for scuba fun. Both places also rent out snorkelling equipment, life jackets, and can advise or guide you to the best spots along the reef. Plus you'll find the Barangay Bantay Dagat (a form of local area lifeguard/security) also on hand to guide you to the reef.  
Fees at time of writing include rental of snorkel, mask, booties and fins @ 260 peso per day, and a 50 peso snorkelling fee. We recommend entering the water directly from the beach in front of Coco Grove Beach Resort to be at the heart of the sanctuary.  Plus there's a handy floating platform here for a welcome rest from your snorkelling adventure.
Without a doubt, the best place to visit in Siquijor for snorkelling, this beautiful and well preserved reef shouldn't be missed! The turtles were the standout stars of our snorkel!
Swim And Splash In Lugnason Falls
The list of waterfalls in Siquijor is usually topped by Cambugahay Falls, and then the beautiful Lugnason Falls (and there are many more to choose from too, so definitely enjoy exploring if you have the time!).
The second most popular waterfall of Siquijor, this is perhaps thanks to it being the nearest to San Juan. Just a 15 minute drive and with free entrance, it's an easy spot to reach.  
From the parking spot (charged at 10 peso) we found it takes around 15 minutes to reach the falls, and it's a pleasant walk along a dirt trail that winds through lush forest, before you're hit with another gorgeous jungle-hidden waterfall, which this time drops around 5 metres.
Blue coloured water fills the large freshwater pool at the base of the falls and it's a popular spot with the locals. Resembling something from the Jungle Book, with trailing vines dangling from the surrounding vegetation and a rugged feel to the area, there's a thrilling jump to try from the top of the falls. Plus there's a rope swing if you have the nerve, splashing down into the pool that's around 5-6ft deep in the middle. Lots of fun, whether you're partaking or just watching!
Take along a picnic here, as you'll find tables and small cottages ideal for groups or larger families. There were no stores or restaurants when we visited, so bring along everything you need.
There's more to this valley than just the falls. Hike along the jungle trail following the stream down further to find man-made aqueducts and a cold spring that's again perfect for swimming at. You'll walk alongside weirdly created concrete water chutes that direct the fast flowing freshwater in random directions. Small little "Zodiac Falls" have been created, making this a rather nice spot for photos. Altogether 12 waterfalls are in this location, with Lugnason Falls being the most famous.
Search out a steep set of steps, near to the cold spring, that will take you back up to the main road near to the parking area – saving you returning back the way you came.
However, you need to time your visit carefully here, as during the dry season (anytime from Nov-May) the water is redirected to the farmers – for the surrounding rice fields and crops. Thus you can find there is literally no water! But, if you time it right you're in for fresh clean water and gorgeous unkempt nature, making this yet another fantastic Siquijor waterfall.  
Flip flops are just about ok for this trip, but a sturdier pair of shoes would be safer – especially if it's been raining prior to your visit. As with most Siquijor attractions, visit early in the morning or late afternoon for a quieter time – or join the locals throughout the day to check out the best jumps and rope acrobatics!
Admire The Sunset At Paliton Beach
The mini Boracay of Siquijor… pristine shallow waters, a white fine sand beach, majestically tall palm trees and ocean views. Paliton Beach sparkles in the hot Philippine sun!
Situated on the western side of Siquijor near to San Juan, this is a perfect sunset watching spot.  Without a doubt one of the best beaches on the island, you'll find a few oceanside stalls and beach shacks dotted amongst the palm trees. Grab a cold drink, dine on local specialities such as chicken adobo or pork bbq, and enjoy happy hour which stretches from 4-6pm (ie. prime sunset time).
Little happens here, so don't expect tunes and fancy beachside attractions. This is a chill-out style beach, with random tree swings tied to bent palms that wiz you across the shoreline before dropping you with a splash into the clearest of ocean. Aside from that, the most energetic motion would be rocking in a hammock underneath the coconut palms!  
However, you can take a dip in the calm ocean or grab your snorkel for an underwater exploration. We spotted some nemo style colourful reef fish but there's quite a bit of seagrass to swim across first.
Without a doubt, one of the best beaches in Siquijor, a visit here is regularly mentioned as top of things to do in Siquijor blog posts. Relax, sip fresh coconut, enjoy the ocean, and unwind at what we feel is one of the prettiest spots in Siquijor and offers a sunset view on-par with Boracay.
A little difficult to find, just ask the locals once you've reached the approximate spot, and consider taking along something to protect you from the sun as there's not so much natural shade.
Go Wild Wild West In Kanheron Ranch
If you can drag yourself away from the nature and beauty of Siquijor, why not check out all 5,000 sq ft of Kanheron Ranch? Owned by a Filipino-American couple, their love for the American Wild Wild West days is yours to enjoy. Yeehaw!
This western-designed tourist spot is great fun, where you're spirited away to the wild wild west the minute you cross through the door. A huge open-style hall awaits, filled with architectural western pieces such as buck heads on the walls, cowhide couches, and log cabin vaulted ceilings.  
Basically, imagine the old frontier movies and you'll be forgiven for thinking John Wayne or Clint Eastwood might ride through the ranch in full cowboy hat and boots (of which there are also many on display). In fact you can rent your own pair of cowboy boots for 10 peso to get right in the mood!
But that's enough on the decor, as this eco-friendly ranch is well kitted out for a good tipple too.  Set up a movie (yes, they have a great stock of westerns) and leave the kids to enjoy, whilst you check out the wine room that's filled with imported vino or the impressive wooden bar that's stocked high with hard liqueur, such as scotch, whiskey and rum.  
Refreshed? Now it's time to check out the museum, featuring – yep, you've guessed it – rustic western artifacts. Pretty impressive it is too! We took their hour-long guided tour and the time passed quickly as we admired the display cases and room set ups.  
Western art, Native American, cowboy genre and other such vintage collectibles are sold in various forms at the Trading Post & General Store, along with t-shirts, postcards and other souvenirs.  
And the best part? All this unique fun for only 100 peso for adults and 50 peso for children, as the owners hope that everyone can afford to enjoy what they've created. Isn't that enough reason to add this to your list of things to see in Siquijor?
Open year round 9am – 5pm, you can easily spend up to two hours – taking in the museum, some time to chat with the owners and helpful staff, and of course a beer or two. Some of our favourites were the big vehicles, pictures of old American actors, but the best is the furniture – tables, chairs, wood decorations, all supposedly hand-carved by the owner.
Located at Olo on the Siquijor Circumferential Road, approximately 25 minutes north of San Juan, you'll enjoy your time here.
Spelunking At Cantabon Cave
Almost in the centre of the island, Cantabon Cave is perhaps one of the most beautiful caves we've seen in the Philippines (and we've seen many). 
Far removed from others we've visited (that feel almost pre-built), 800-metre long Cantabon Cave with a subterranean river is still very much raw nature.  
You'll pay a small entrance fee (20 peso) and a guide fee (you can't explore without one).  There's a fixed price so you won't be haggling over rates (we paid 500 peso) and you can always share a guide between 3 people to help reduce costs if you're travelling solo/in a pair.  Expect to receive a helmet and flashflight, then you're all ready for the adventure!
As mentioned, this is a rugged cave that's pretty much just as mother nature intended, thus you're in for some back-breaking adventures. Taking around 2 hours, exploration requires bending, crawling, and getting downright wet and dirty! Don't let that deter you as it's not that difficult and the views make it all worth the effort. You can expect to climb though rocks, slide down others and submerge through thigh high water in the dry season. The guides are excellent and walk you through it easily.
Huge white rocks, columns, stalagmites and stalactites reflect in the cave's water, making for fabulous Insta pics. Stop off for a glug of fresh water that's dripping naturally through the rocks.  Or take a swim in the mini natural pool – super refreshing if you're visiting in the hot season.  
A couple of things worth mentioning to keep in mind before you visit – in the wet season water inside the cave can reach up to chest-level (the guides monitor this and close the cave if it gets too high). Also, in spots it can feel a little claustrophobic.  
But, saying all that, this is still an exciting adventure on our list of things around Siquijor to do, especially during the dry season. In fact it's one of the most visited tourist destinations on the island.
Though it's a little remote, everyone knows the cave's location – so you can easily rent a tricycle and ask the driver to take you there or rent scooters for a self-drive fun experience. It's around 30 minutes from San Juan, and you'll pass alongside gorgeous jungle and through small villages. There's handy lockers to leave your possessions at whilst you explore, and I'd recommend a waterproof camera if you want to take pics as the cave roof drips continuously.  You can enter wearing flip flops, but why would you! Try to wear aqua shoes or sandals for a much better grip.
Located at the mountainous side of Mt. Bandila-an in the Barangay of Cantabon, this is one caving experience you shouldn't miss – perhaps even better than those at Sagada or even the Puerto Princesa Underground River!
Experience Pure Paradise In Kagusuan Beach
Close to the southeast edge of the island, Kagusuan (or sometimes written as Cagusuan) Beach is located along the sprawling coastline of Maria.  
If you're looking for an early morning sunrise viewing spot, this quiet remote beach ticks all the boxes. What's particularly lovely is the Kagusuan Forest reserve that envelopes the rear of the beach. A signboard to the beach can be found at the entrance to the forest but you'll probably need to stop and ask a few times before reaching that point.
Once you reach the forest entrance there's another 5 minutes ride until the parking spot. With no entrance fee, you'll find the beach at the bottom of the hill (with cemented steps leading you down).  
By no means a massive beach, it's a slice of unspoilt nature that reminded us of some of the more remote Palawan islands, where the trees and jungle vegetation seem to be almost invading the white sand strip of beach. Broken coral pieces make the sand a little coarse, only adding to the rugged, remote feel. The sea is crystal clear (as we found everywhere in Siquijor) and there's some rocky outcrops, mini coves, massive coral boulders, and in all a ¼ km of sand to explore.
Disconnect for a while from life – with no WiFi signal, no crowds and no vendors (take snacks and drinks) there's just a handful of fishermen and locals enjoying the peace of this mystical island.
LATEST UPDATE:  We heard that the beach is private property and may have been closed. If so, head to nearby Minalulan Beach, also in Maria. A long stretch of beach, it's a slice of local life with many houses opening onto the beach and fishing boats coming in/going out with the tide. You can also see the Minalulan Lighthouse.
See Wonderful Marine Gems At Marelle's Seashell Museum
It's little places like this that make a vacation special, offering up unexpected surprises and wonderfully interesting collections.
Marelle's Seashell Museum contains an awesome display of seashells – arranged and sorted by type. Staff are super knowledgeable, seemingly knowing everything there is to know about them. Gastropods, bivalves, chitons, nautilus (my personal favourite), cowries, and corals of all shapes and sizes are beautifully displayed.  
Staff implore the importance of shells, along with the dangers of people taking them from the beaches. There's also a stunning marine-life focused stamp collection, plus some fish and crab displays too, alongside items that reflect the fishing culture of Siquijor – fishing nets, charts, maps and even catamaran fishing boats.
Grab a late breakfast or have lunch here, with fresh, top quality food for very reasonable prices (plus large plates ideal for sharing). You can also pick up unique souvenirs and some very creative "Siquijor" themed trinkets.
Open Sun – Sat, 7am – 10pm, this would in fact make an ideal dinner venue if you're considering what to do in Siquijor at night. Rock up for a seafood dinner on the shaded veranda or dine romantically under the stars before checking out the shells and displays.
Located on the Siquijor Circumferential Road, adjacent to Tubod Beach.
Go On A Siquijor Mountain Bike Tour
"I don't ride a bike to add days to my life. I ride a bike to add life to my days" – Unknown
One of the top things to do in Siquijor Island and an easy way to check out all the things to see in Siquijor is to book yourself on a mountain bike tour.
Aptly named Siquijor Mountain Bike Tour Company will guide you through the mountain trails of Siquijor. With the breathtaking scenery that Siquijor is famed for all around you, and well planned stops for beach refresh, cliff diving or swimming, this is sure to be an epic adventure.
Head to the town of Maria, at the eastern part of the island for the registration. There's a biking fee, for which you'll receive full guided support and equipment (including safety helmet). Select from a few routes dependent on your riding experience/level, that all take you down the mountain sides of Mt Bandila-an.  
Usually lasting up to three hours (or even the whole day if that's your preference), the trials are fun and mostly easy to ride. Of course, biking in the mountains is never that easy but you don't need to be a professional to partake.
A shuttle service will take you uphill (so the hard part is waived!), and almost 90% of their trails are downhill. Water plus snacks are included after every trail, lunch too comes mostly in the form of a Filipino boodle fight – where you eat with your hands a communal meal that's presented on large banana leaves.
Whether you're in your teens or seventies, this zoom through nature is a standout day of any Siquijor itinerary. Jungle forest, island panoramic vistas, rice fields, volcanic rock and limestone… what's not to enjoy!  Enquire about a booking here.
Scoot Around Siquijor Island
If you're like us, then you adore the sense of freedom that scooters offer. It's always the first thing we do upon reaching a new destination – rent a scooter so we can start exploring. Fresh air, a natural feeling that cars simply can't match, and an island of trails, paths, tracks and more to explore.
On such a small island (it's the third smallest province in the Philippines), you can't get lost. If in doubt, head down and eventually you'll hit the coast. Roads are surprisingly well made and – assuming no recent rain storms – you can motor along at a good rate.  
The National Highway runs around the whole island and passes through 6 towns, with most of the mentioned attractions roadside. Long stretches of coastal road make for dramatic rides, and friendly locals are only too happy to help you if you get lost (but isn't that half the fun!).
All the places we've mentioned can be reached by scooter, so get ready to explore the mystic island on two wheels – whether you plan to circumnavigate the island within one day or work out different routes across a few days, stopping at all the mentioned sites.  
Rentals start around 400/500 peso for 24-hour use (and barter if you're renting for a few days), and you can pick up at many spots around the island. Yet perhaps the simplest is directly at the port when you arrive as you'll find many scooter rental stores at the Larena Ferry Terminal.  
You'll find little traffic and few pedestrians on the roads, so enjoy the ride. It's definitely one of our best things to do Siquijor or anywhere!
Learn The History Of The Century-Old Cang-isok House
Historical places in Siquijor are few and far between, but this historic house is well worth a visit.  Standing (only just!) in the spot for more than a hundred years, the Cang-isok House is built on stilts and stands close to the shore of Barangay Libo.  
Built in the mid 1800's, it's actually getting on towards 200 years old and when you see how flimsy it is, it's hard to imagine it withstood the typhoons and rains that the Philippines can experience.  
Made from local materials such as bamboo, nipa sheets and hardwood (such as beautiful tugas and molave), the structure has surprisingly stood the test of time and nature. However, I wouldn't dally too long as it doesn't look very stable and unfortunately there's no support from the local government to preserve it.
Locals tell fables about the house, how it was built by a Spanish man named Mariano Tejano (hence it's often known as the Tejano House). The stilts were probably to keep wild animals away or possibly due to the change of tides as it's very near the shore. Aside from this, little else is known about the house.    
To be honest, we found this a little disappointing as there are signs that it's not perhaps as old as it's claimed to be, but it's another stop to tick off on your island exploration.
Swim Through The Sambulawan Underground River
Up for an adventure? One with bats, non-venomous spiders (supposedly), clay mud and water at waist-height?  Yep, we're talking about the Sambulawan Underground River experience – one of the most popular things to do in Siquijor Island, 2021.
Consisting of three levels, the cave has a bottom freshwater river that flows for around 200 metres. Led by a guide (cost of 250 peso) and armed with a headlight, commence down a steep stairway, followed by a short walk to the river. Here you'll swim or float along (or wade, pulling yourself along the wall) in fairly high water. Protected by your life jacket, this is a safe experience – rather pleasant actually as the water isn't too cold.  And at the end, turn off your headlight to feel the heavy weight of total darkness!
You'll head back along the river, before exploring other levels of the cave. View splendid stalactites and stalagmites, along with bats, spiders and – my personal horror – cockroaches.
You'll find yourself climbing over and through a few rocks but nothing too difficult, except perhaps the part where you have to squat for a few metres through a very low section.  Needless to say, the overall experience is not ideal for children, anyone with mobility issues, or find it uneasy in water or small places. But if you're up for the challenge, it might well be a highlight of your Siquijor stay! 
Don't be put off when you arrive, as above ground there's little to show what's waiting. A field, with a small shelter and some life jackets hang limply in the breeze, but a subterranean world awaits.
Located near to Cambugahay Waterfalls, at Tagmonocan, Lazi. Plan out an hour or two stop here, and get ready for a face full of natural mud!
Siquijor Itinerary 2021
Feeling overwhelmed by all the activities in Siquijor? That's why I created this Siquijor tourist spots itinerary. It's created as a 3-day itinerary in Siquijor but you could pick your favorite day if you want a Siquijor itinerary 1 day or add extra days using the tourist places in Siquijor above that aren't included.
Day 1
Here we go with Day 1 of your fabulous Itinerary Siquijor, and we'll kick things off by exploring some of the natural delights of the island.
Start the day by renting a scooter
First stop is Cantabon Cave 
Drive on to see the Old Balete Tree
Time for a picnic lunch before swimming, jumping and swinging at gorgeous Cambugahay Falls
Finish your afternoon at Marelle's Seashell Museum and early dinner
Day 2
Another exciting day today with lots of wicked views, and you'll need to reserve your energy for the afternoon's activity. For sure, you won't be left wondering what to do in Siquijor, Philippines!
Kanheron Ranch is your first stop today, yeehaw!
Next up, the sweet Butterfly Sanctuary at the highest point of the island
Travel along the coastal road to check out if Cang-isok House is still standing
And on to Maria for lunch and a 2-hour mountain bike ride
Finish the afternoon at Salagdoong Beach, to relax, swim, snorkel or cliff dive
Day 3
Depending on your hotel location it might be an early start today…
Catch sunrise at rugged Kagusuan Beach
Grab breakfast beachside before heading on to adventures at Sambulawan Underground River
Drive towards San Juan now, for a picnic lunch at Lugnason Falls
And finish your stay with an afternoon of snorkeling or diving at epic Tubod Marine Sanctuary…
Before catching the sunset at Paliton Beach!
What To Do In Siquijor 2021 Map
Best Place To Stay In Siquijor
Siquijor is a small island and off the main tourist track, yet there's a surprising amount of accommodation. No global chains here. Instead you'll find local hotels, inns, beach houses and rural homestays. With a coastline that stretches 102 kilometres you won't struggle to find a room with a view!
We've tried to help you out by selecting our top expensive, mid-range and budget stay favourites.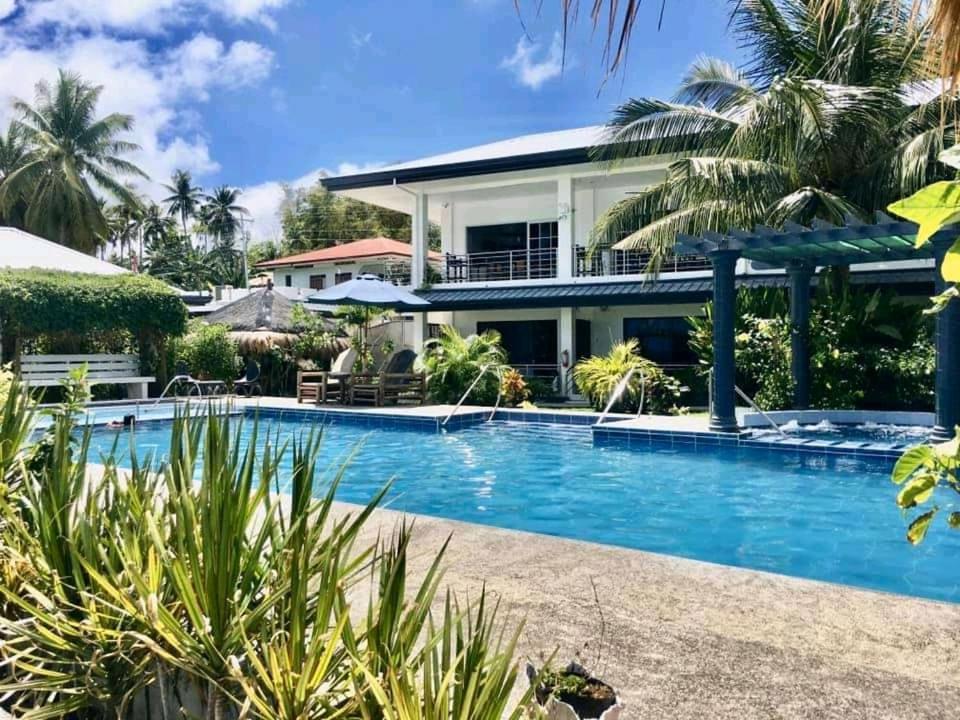 Gorgeous Maria town, on the east of the island, is the setting for the Suite Princess Beach Hotel, meaning you're in for dramatic sunrise views.
A modern hotel that resembles a large two-level house with a pool, there's lots to enjoy here with a jacuzzi, small swimming pool with sun deck, and karaoke room for evening family fun.  The hotel opens directly onto a gorgeous strip of private beach.
Rooms are brightly designed, with colourful bedding, plants, comfy chairs and cushions, and benefit from refreshing ocean breezes. All come with air conditioning, mini-bar, private sitting area and patio with glass doors, tea/coffee making facilities, flat-screen TV, complimentary toiletries, and an iron. 
There's a few room types to select from including deluxe double rooms, family bungalows and studios. For younger visitors, there are board games, children's dvds, a special menu, play area and also baby cots are available.  You can rent badminton equipment, canoes and a few other water sports facilities are offered.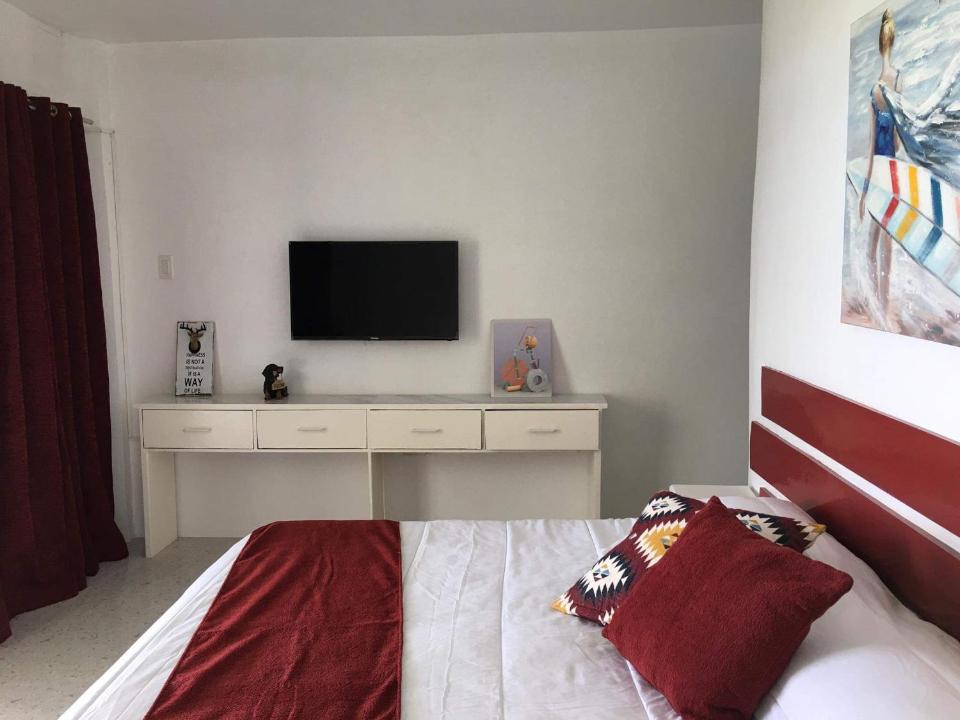 Bookings come with either a continental or a-la-carte breakfast, and the onsite restaurant – Sky Bar and Restaurant – caters to your lunch and dinner needs serving pizza, seafood and asian dishes. There's a communal lounge area, plus a shared kitchen too if you fancy making something yourself.
General hotel facilities include room service, housekeeping, laundry and you can enjoy Happy Hour at the onsite bar. You can cook up your own BBQ in the garden area, enjoy an in-room massage or play a game of darts.  
Staff at the 24-hour reception are happy to assist with island tours or marine fun, and they'll store your luggage if you need to check out early. Parking is free to all guests and there's free WiFi in the public areas.
Nowhere is far away on such a small island, but the hotel is between beautiful Salagdoong Beach and the epic Sambulawan Underground River experience, and close to Mt Bandilaan National Park.
Click here for the latest prices.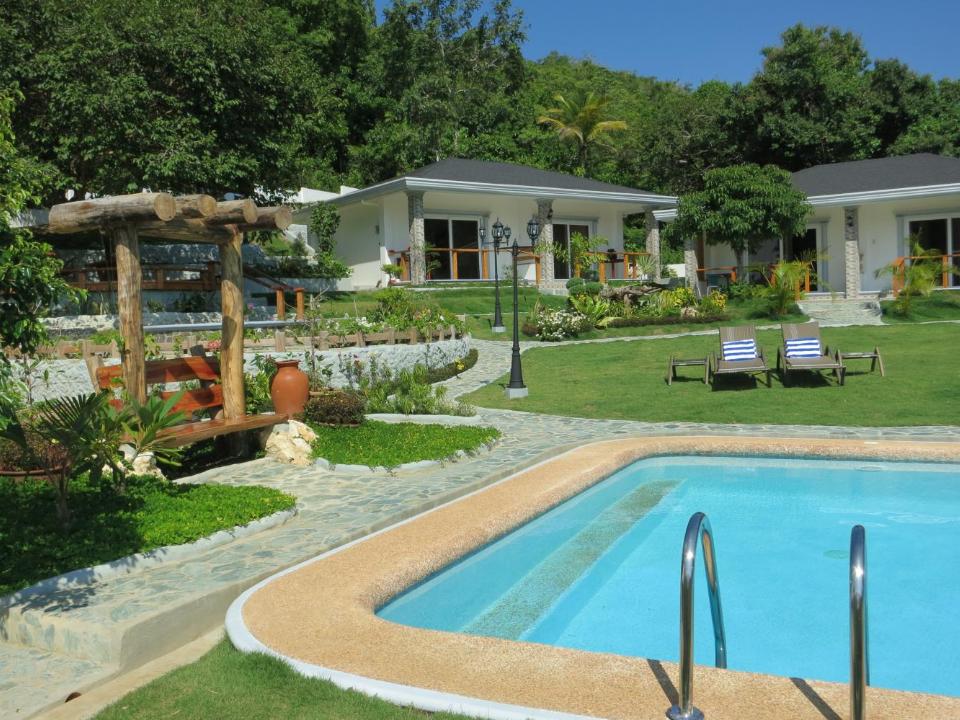 Just north of San Juan and a short drive from Paliton Beach, Gardens Bungalow Resort is a peaceful mid-range option for your Siquijor adventure.
With only a handful of bungalows, set in beautiful gardens all around an outdoor pool, you're guaranteed attentive service from the owners. A 24-hour front desk is manned, and car or scooter rental can be easily arranged.
All rooms have garden and pool views, air-conditioning, a flat-screen TV with cable channels, a fridge, kettle, hairdryer and desk. The private bathrooms come with a shower and free toiletries.  Plus there's a communal terrace and hot tub.
Accommodation choices include a studio with balcony with private kitchen and one bed, and bungalow with garden view or deluxe bungalow that both come with a large double bed. For larger groups, there's a superior triple room with 1 single, 1 extra-large bed or it comes with 3x single beds.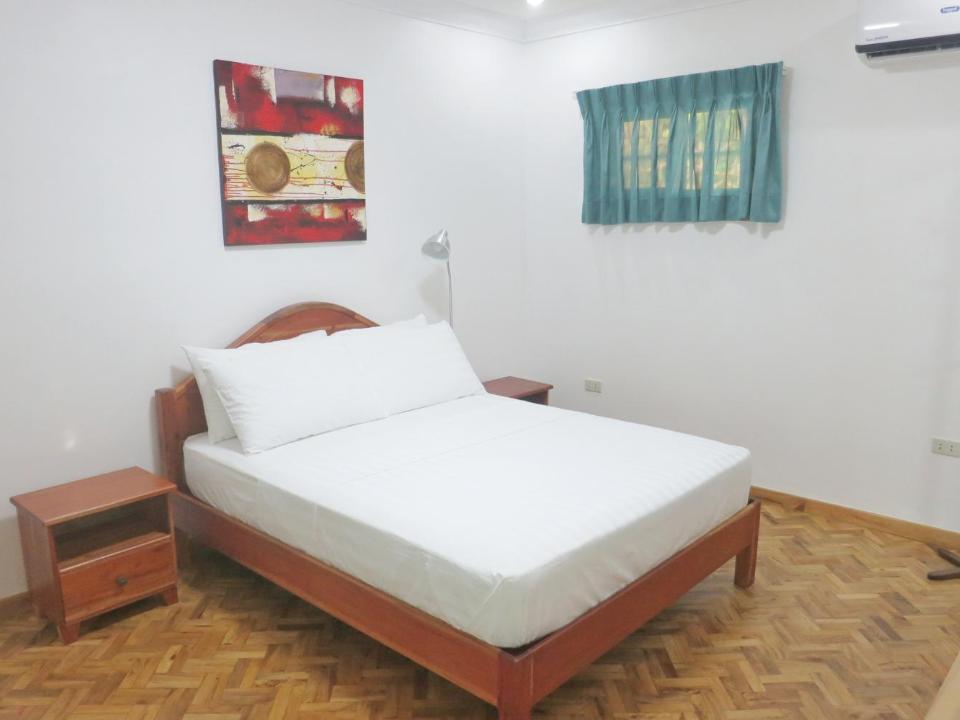 Bungalows are spacious and bright, with hardwood or parquet floors. There's a private entrance, terrace and outdoor dining area with furniture.  
Breakfast is served roomside or at the communal terrace, with Asian, American or continental choice.
A free port service is a nice touch, and maps are provided so you can self explore the island easily, with restaurant and destination recommendations offered. There's complimentary parking, express check-in, and free WiFi throughout the property.
Set back around 700-metres from the main highway and surrounded by nature, Garden Bungalows is a pretty, private accommodation option that reflects the relaxed vibe of the island.
Click here for the latest prices.
Family friendly budget accommodation, Kamp Aninipot is set on a hilltop in Siquijor Town, not far from Paliton Beach and Cantabon Cave. Huts – think Hobbiton-style and you're somewhere near to picturing the slightly odd design – open out on to a truly jaw-dropping vista of half the island.
Carved from the hills, the huts have their own private entrance and some are fitted with an electric fan or even air-conditioning. The standard room comes with 1 bed, good for solo travellers or couples. The family room with sea view had 1 single bed and 1 sofa bed – thus only good for smaller families. There's also a family room with private bathroom that comes with 1 single bed and bunk beds. Some have private showers and toilets, whilst others share communal facilities.  
There's free parking, WiFi, and bookings include a continental breakfast. Note that no alcohol or smoking is allowed. Tent camping is also offered, with plenty of sites to hang a hammock.    
The view is astounding, unbeatable, plus you have unusual, cosy rooms, clean facilities and friendly staff, this is a unique budget Siquijor stay. Away from any noise and island chaos, the location is near to many mentioned attractions and beaches.
Click here for the latest prices.
Find our complete guide to exactly where to stay in Siquijor Island here.
How To Get To Siquijor
It's easy to get to Siquijor by plane or ferry.
Regular flights are available either from Manila or Mactan-Cebu airports going to Dumaguete City. From the airport, take a tricycle or rent a car to Dumaguete port. You then hop on a boat or ferry to reach Siquijor. 
To see all the latest flights and prices, click here.
You can also hire a car to get you there by clicking here.
Siquijor With Kids
Siquijor has quickly become one of our family's favourite spots in the Philippines. It's up there with Camiguin and Coron, somewhere that we all enjoyed thanks to it's chilled out vibe, quiet roads, lack of tourists, and an overall feeling (the same as Camiguin) of being enveloped by Filipino culture.  
Construction is slowly happening, but for now the island isn't geared towards tourists – it's natural, it's functional for the farmers, for the fishermen. Children walk to school, locals wave as you pass by on your cheap scooter, and everyone wants to know where you're from!
For the kids, this was a safe, fun, friendly and relaxed vacation. Yes, we did lots of activities, but there's a slow pace to everything. Being outdoors almost all day – swimming, cliff diving, jumping from waterfalls, swigging on tarzan ropes, cycling through jungle forests, swimming in underground caves, and snorkeling with turtles – these were epic family days (without iPads!) that we all enjoyed together.
Not so ideal for younger children, especially with the journey to reach the island, it's a fun paradise for your pre-teens and teenagers. Plus they'll be begging you to visit the local shaman, the mystic Bolo Bolo Healers!
Final Words
It's hard to choose our best place in Siquijor, as we all had different favourites. There's something on this small gem of an island for everyone, of any age. Plastic free, smoke free – the natural beauty of the island needs to be seen, the sheer peaceful lifestyle to be experienced. Quickly, though – before tourists arrive in greater numbers.  
Not the easiest of islands to reach, don't be deterred. The magic of Siquijor will win you over!
Hope you enjoyed our best things to do in Siquijor Island guide. Also know exactly where to stay in Siquijor Island here and find more guides to awesome Siquijor here.