Travelling to Siquijor and wondering where to stay in Siquijor Island?
Known for its beaches, waterfalls, scenic views and a mystic twist, Siquijor is a stunning island!  
Cut off from mainland Cebu, it has retained a quiet, local feel that is far removed from the tourist areas of Cebu such as Mactan or Moalboal. Instead, you're surrounded by friendly locals, farmers selling fresh produce, and empty roads that await your discovery.
Best Hotel in Siquijor
Don't have time to read the whole article? The best choice is the awesome Coco Grove Beach Resort.
In olden times, it was believed that the natives of the island were "men of mystery and magic", able to conjure and control spirits. Today, you'll still find folk healers making special brews and herbal concoctions that are said to help with love and health problems. Visit at Holy Week (Easter) when Filipinos from all over the country come together to make special potions made from items gathered in the forests, from the sea, within caves and even from cemeteries.
Small enough to discover within a day or two, the island is filled with so many natural delights that you'll want to stay at least a week!
Read on for everything you need to know to work out what to stay in Siquijor whether you are looking to discover some cheap places to stay in Siquijor or some of the more beautiful places in Siquijor to check into.
Our Top 3 Picks: Best Hotels In Siquijor
Simply want to book the best option? Save time with our top 3 picks below.
Where To Stay In Siquijor Island – The Best Areas [2023]
Here's a quick overview if you are looking for a specific type of hotel…
San Juan
Home to over 16,000 people, San Juan is perhaps the heart of the tourism action in Siquijor. However, don't expect malls and traffic. Instead, you'll find the population of San Juan are young, enthusiastic and super happy to greet tourists. If you're considering where to stay in Siquijor 2023 you'll find San Juan is a more than perfect place!
Second in importance to the island's capital town (Siquijor Town), San Juan rivals Maria for the best beaches on the island and, thanks to its location near to the Port, has become the centre of tourism. If you pass through at the end of August you'll catch the famed Bugwas Festival, the feast of the town's patron saint, St Augustine.
Originally known as Makalipay and ruled by a local chieftain, when the Spaniards came they named San Juan in honour of Saint John the Baptist, perhaps due to the spring – located at Capilay Spring Park – in the middle of the town.  
There are some great options of where to stay in San Juan, Siquijor detailed below.
San Juan Summary
Pros
Near to Cantabon Cave and Lugnason Falls
Perfect for Tubod Beach and Tubod Marine Sanctuary
Easy to reach from the Port at Siquijor Town
Paliton Beach at your doorstep for epic sunsets
Cons
Can get busy, especially around Paliton Beach at the end of the day
Prices for bike rentals a little more expensive than further away from the Port
Best For…
Ideal for beach lovers, and anyone looking to spend time exploring the famed Philippine's marine life.
Best Place To Stay In San Juan
Below are the best places to stay in San Juan.
Right on the beach of Solangon, in between the famous Tubod Marine Sanctuary and Paliton Beach, White Villas Resort is a cosy place with buckets of charm.
Rooms come with a flatscreen TV and all have a private bathroom with shower. They are very comfortable and clean. Some have terraces and pool/sea views, and there's free WiFi throughout, although the quality is poor. Choose from villas with 2 large double beds, free-standing Bungalows with 1 double bed, and more Standard and Bunk Bed rooms in the main complex.
A buffet breakfast is served at the restaurant right by the beach and you can enjoy a drink at the Sunset Beach Bar. Guests have the use of a small pool, which comes in handy as the ocean in front of the hotel isn't ideal for swimming. Yet, you can make complimentary use of kayaks and paddle out to the nearby reef for great snorkelling and a swim.
Click here for the latest prices.
Among the best known accommodation on the island thanks to its prime position, Coco Grove Beach Resort is a glamorous Siquijor accommodation choice.
Built fronting 800 metres of white beach, the resort is spread out nicely with lots of space. There are a variety of rooms and bungalows hidden amongst tropical gardens and coconut groves. These range from cottages and villas for couples, families and small groups, to a double-storey penthouse with rooftop area and outdoor jacuzzi.  
The resort has a spa, a boutique store, and offers a laundry service and baby sitting service. There's also an on-site dive shop that offers PADI and SSI courses, plus trips to Siquijor's 23 dive sites. There's resort boats for island hopping, but you can simply walk out from the resort's beach to snorkel at Tubod Marine Sanctuary.  
There are 3 swimming pools (the largest with a swim-up pool bar), and 2 restaurants that offer Filipino, international and seafood specials. A gorgeous spot, this hotel receives glowing reviews and is among the Siquijor best place to stay.
Click here for the latest prices.
Treasure Island Beach Bungalows sits besides Solangon Beach and offers modest accommodation with beachfront rooms available. It is located in a good position for nearby restaurants which makes it a top pick of where to stay on Siquijor for couples.
On-site, there is both a bar and restaurant serving delicious pizzas. Accommodation ranges from standard rooms to garden bungalows and beachfront rooms. Standard rooms are about half the size of the bungalows and beachfront rooms. All rooms have a private bathroom, WiFi, air-conditioning and a flatscreen smart TV. Bungalows and beachfront rooms have an outdoor sitting area and a kitchenette with fridge.
This is not only a beautiful Siquijor accommodation option, but it's also amongst the most affordable with the rates being very competitive.
Click here for the latest prices.
Siquijor Town
Siquijor Town is the capital of Siquijor Island, and slightly southwest. Home to a busy port, it's often the gateway to/from Cebu, and is a hub for tourist ferries and fast crafts.
Close to 30,000 people live in the sprawling town, which celebrates its annual fiesta every 4th of October honouring St Francis of Assisi. Known as the Dilaab Festival or Fire Festival, it celebrates Siquijor as the Isla de Fuego – what the Spanish conquistadors back in 1780 named the island thanks to an abundance of fireflies.
You'll find a local town that moves at a slow pace with local restaurants and shops. Check out the local pastries and native gifts on display. The centre of the small island's economy, you'll find farming produce, baked delights, weaved baskets and an immeasurable amount of bananas!  
There's also a small airport here. Ensure to tick off a visit to St Francis de Assisi Bell Tower & Convent whilst in the town. Built in 1870 and mostly made of corals, it is one of the best heritage places to see in Siquijor.
There are some great options of where to stay Siquijor Town detailed below.
Siquijor Town Summary
Pros
Immerse yourself in the bustling port and capital town
Near to Cantabon Cave and Kanheron Ranch
Easy access to the lush greenery of Mt Bandilaan National Park
Cangbangag Falls and the Butterfly Sanctuary are an easy morning trip
Cons
If you're looking for the peace that Siquijor is known for, perhaps best to avoid
Prices for food and bike rentals are a little inflated
Best For…
Anyone looking to discover Filipino culture will adore Siquijor Town as it bustles with locals, and you'll find lots of locally grown produce and gifts available at cheap prices. Also, here is an ideal base if you have limited time on the island as it's well placed and there are many jeepneys or tricycles to rent.
Best Place To Stay In Siquijor Town
Below are the best places to stay in Siquijor Town.
For those that adore mountain fresh air and splendid views, Infinity Heights Resort could be your ideal Siquijor accommodation! In fact you'll find it featured on many where to stay in Siquijor blogs, thanks to the dramatic photogenic vistas the resort has. This is a simple resort but one that feels quite exclusive.
Approx 2km from the coast, you'll find individual villas with panoramic sea views, and duplex style villas with either sea or mountain views. Executive Villas have a large balcony and a king bed, plus 2 sofa beds. Premium Villas also have a king bed. Deluxe Seaview has a king bed and slightly less space. WiFi is available in all rooms, plus air-conditioning and TV.  
Relax at the guitar-shaped infinity pool, enjoy a tipple from the Jungle Bar and wait on the dramatic sunset. Evening comes and most nights you'll find acoustic music from the talented owner/singer Cristy, with dinner served alfresco in the gardens or around the pool that's lit beautifully at night. Surely one of the top romantic dining venues in Siquijor!
Breakfast, lunch and dinner are served at Cristy's Restaurant, with snacks available poolside throughout the day. Also, the resort offers massage services, island tours and can help arrange visits to the famous faith healers.
Click here for the latest prices.
2km from Siquijor port, Blue Wave Inn is another on-the-beach peaceful accommodation option.  
It offers basic rooms built across two floors, surrounding an outstanding infinity pool that is slightly raised from the adjacent beach, thus providing fabulous views – definitely its standout feature.
Ideal for families, rooms are simple and clean but dated – this is often a cheap place to stay in Siquijor. Select from Standard Fan, Standard air-conditioning, Deluxe Room or Double Bed Room with sea view. They could suit families but at a bit of a squeeze! 
On the positive side, all bookings come with complimentary breakfasts. There's a simple restaurant and bar, both designed in keeping with the resorts 'local' style, and food is a mixture of local and international dishes. You'll also enjoy free WiFi in public areas (but it is slow), and free off-site parking.
A little remote, it costs around 250peso for a ride into San Juan or Siquijor Town, but the view from the pool makes it all worthwhile!
Click here for the latest prices.
If you need somewhere clean and comfortable to lay your head, this guest house is perfect. It's almost on the border of San Juan. Thus, Paliton Beach is only 5 minutes away.
Accommodation comes in the form of newly built one-storey connected rooms, each with a private bathroom with complimentary toiletries. There's a small private sitting area outside of each air-conditioned unit, and they have hot and cold showers, plus a flatscreen TV with cable.
Rooms sleep a maximum of four people and come with one double bed, with extra beds chargeable.
There's free WiFi and free parking too at this small and quiet guest house. Not too many frills but everything is new, clean and modern, plus the location is good for exploring more of the island.
Click here for the latest prices.
Maria
Home to some of the island's best beaches, including the well known Salagdoong Beach, we recommend this as one of the best places to go in Siquijor. With white sand beaches and crystal-clear turquoise waters – along with some great diving platforms – Maria is a sleepy slice of Philippine paradise.  
On an island famed for its natural, unkempt feel, the romantic town of Maria is where you can see gigantic trees and lush forest right down to the beaches. You'll find Kagusuan Beach here, our top place for an early morning beach sunrise spot on Siquijor island.
24 Kilometres from the port and Siquijor Town, the north-eastern town of Maria feels remote. Life is slow, more so than other towns, with early starts recommended to capture the stunning sunrises.   
Drop by May 20-21 to enjoy the Lubi Festival of Maria, a thanksgiving for a bountiful harvest and the blessings received from the tree-of-life, known as Lubi (coconut). Catch the dance contest that is one of the highlights of the year's fiesta festivities!
There are some great options of where to stay Maria detailed below.
Maria Summary
Pros
Beaches and forests, nature calls you to Maria!
Remote from the Port and popular San Juan, perfect for a quiet sunbathe
Home to one of the top beaches and cliff diving spots – Salagdoong Beach
Saddle up for epic mountain bike rides, with Maria the starting point
For early birds, amazing Insta-worthy sunrises
Cons
Not many dining options
Approx 40 minutes from the Port (travelling North) or San Juan (travelling South)
Best For…
The pride of locals, Maria is a perfect tropical destination with postcard-perfect Philippine beaches, sprinkled with local fishermen and not much more. Mornings are spectacular at what is a contender for top spot in our best places in Siquijor list!
Best Place To Stay In Maria
Below are the best places to stay in Maria.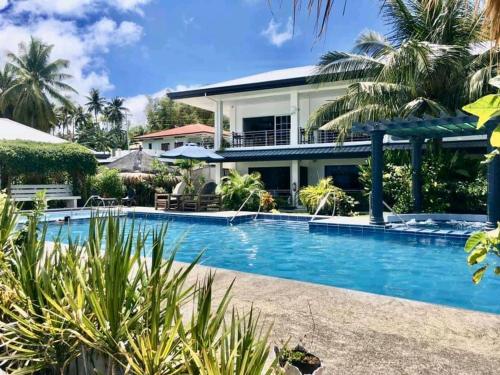 A two-level building that resembles a private villa with a pool, Suite Princess Beach Resort is a top choice for Maria, Siquijor accommodation. The resort is quite remote and opens out onto a private strip of the beach.
Ideal for couples or families, guests can mingle at the spacious poolside decking, or over drinks and snacks at the communal lounge. Sky Bar and Restaurant caters for meals, serving a varied local and international menu, but you can also cook for yourself at the shared kitchen area.
The rooms are modern and comfortable, with lots of nice touches such as plants, snug chairs, cushions, colourful bedding and more. All are air-conditioned, have a minibar, a private seating area, and a patio with glass doors that let in a welcome ocean breeze.
Whilst there isn't a lot nearby, this Maria accommodation will keep you entertained. With badminton equipment, a karaoke room, children's DVDs and board games, this could be the best place in Siquijor for families looking to get away.
Click here for the latest prices.
Just a 4-minute walk from Salagdoong Beach, Jelly Sea Resort is so near the ocean that you can literally spot turtles from your room!
Only a sea wall protects you from the ocean that wraps itself around the resort that is slightly protruding from the island. With the sea a startling azure colour and a gorgeous reef just a few strokes out, this is a fabulous choice of accommodation for anyone that wants to maximise their beach and snorkelling time.
Dine on little huts raised off the sand, again with ocean views, or hang in the provided hammocks. The location and views are everything here, yet the rooms are clean, spacious and modern in feel, adding another high point to your stay. Coming with air-conditioning, a balcony and a private bathroom, you'll find free toiletries and a desk. Bedding is usually one queen and 2 single beds.
You can get out on the ocean in clear kayaks, or, more uniquely, enjoy a relaxing hammock that's positioned a few metres from shore in a bamboo constructed floating raft. 
Back on land again, enjoy a game of table tennis or chat with the 24-hour front desk staff to arrange bike rental or island tours. With a small fitness centre, a bar and gardens, Jelly Sea Resort definitely ticks all our boxes!
Click here for the latest prices.
Larena
Once the capital of Siquijor province, Larena is a coastal town at the northern part of the island that's adjacent to Siquijor Town. Another port-town, you might find that you arrive here by ferry instead of into Siquijor Town.
During the American occupation of the country, Larena was known as Can-oan and led by Siquijor's first American Governor. Today it's named after the first Filipino Governor of the Province of Negros Oriental and Siquijor, Demetrio Larena. You'll find banks, commercial establishments and the Siquijor State College, all making Lorena a bustling town that leans ever so slightly towards being more modern than the rest of the island. 
The Cano-an Festival is celebrated every 1st of May. A fun and loud culinary festival, mountain farmers come to Larena to sell their fresh produce in the markets, and is followed by two days of more fiesta dedicated to honor St Vincent Ferre.
Don't miss out on Tulapos Marine Sanctuary. This is one of the oldest in the province and covers 14 hectares of shoreline, beaches and magnificent mangrove forest. The sea can be a little rough but it's worth the challenge with large schools of barracudas and jackfish often spotted just by snorkelling.  
Before you leave, check out the well established mangroves, with unusual birds and a mangrove tree house that's great for spotting them!
There are some great options of where to stay in Larena, Siquijor detailed below.
Larena Summary
Pros
Home to one of the island's three ports, immerse yourself with the locals at markets
The town is busy, with banks, a supermarket and many dining options
Visit century-old St Vincent Ferrer Church, the old belfry opposite, and Cang-isok House
Check-out white sand Cangbagsa Beach and the nearby fresh water spring
Discover the fish sanctuary at Sandugan Beach or snorkel at Tulapos
Cons
You need to travel out of Larena to discover the quiet, slow lifestyle of the island
Best For…
Ideal if you're only staying for a night or two, to make for an easy hotel check-in directly from the port and ease of departure.
Best Place To Stay In Larena
Below are the best places to stay in Larena.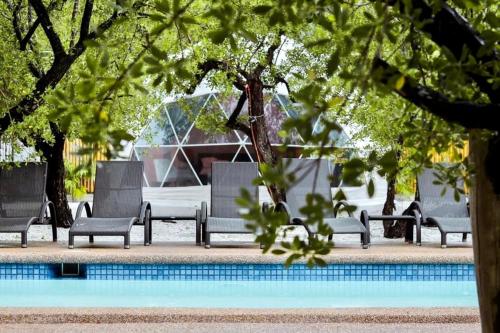 Aquamare Beach Camp Resort is more than just a place to stay. Facing the beautiful strip of Sandugan Beach in Larena, you'll spend your nights sleeping in a tented dome. In the morning, pull back your curtains to reveal stunning beach views. Clean and bright, these domes are remote and a modern take on camping on the beach!
There's a flatscreen TV, small table and chairs, a queen bed and funky lamps. The best part is that they come with air-conditioning, plus a modern bathroom with a hot shower, and two deck chairs to relax in. Family rooms with a living area are also available. A glamping experience that resembles a hotel room!
The sunsets are spellbinding, and there's a decked area with sun umbrellas and beanbags to enjoy the view and night sky. The resort also has a 24-hour front desk, luggage storage space, and offers free WiFi and private parking. There's a stunning pool too with full beach views, and a buffet restaurant with great food.
Click here for the latest prices.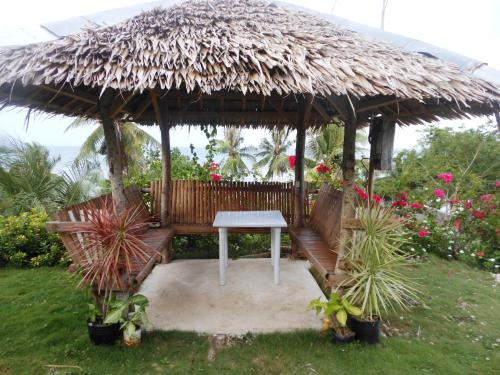 This tiny resort has just a handful of small villas to rent, and is ideal if you want a home away from home experience facing out onto gorgeous ocean views.
With thatched roofs, and walls in part made of bamboo weaved panels or painted brightly in yellows and greens, the small shacks are fit for any aspiring beach-bum! Relax on your tiny veranda, string a hammock in the gardens, or walk 50 metres to the private beach.  
Accommodation all come with a private bathroom that's fitted with a shower and a handful of free toiletries. Ideal for solo travellers or couples who are looking to simply hang out at the beach, there's a small restaurant, bar, and even free WiFi to keep you online. It is quite isolated which makes for a relaxing getaway, but you'll need to consider transport for getting around.
Click here for the latest prices.
How about a private villa, just steps away from the ocean? Kalachuchi Beach Resort offers just that, with two-level thatched villas that are perfect for a family getaway or a romantic couples stay.
Modern facilities are offered inside traditional looking villas. Relax on the mahogany day bed, perfectly placed by the balcony. Amenities include air-conditioning, daily housekeeping, a shower, minibar, both bath and pool towels, a private patio and terrace, a queen size bed, plus TV with cable in selected villas.
WiFi is fairly limited, but is free of charge when available. There's a communal area towards the shore with a gorgeous pool, bar, billiards and garden chess, table tennis, and a restaurant that caters to all your needs.
You can rent scooters for island exploration inland or rent their small boat for ocean trips. Snorkel directly out from the shore, simply relax in their elegant two-tiered pool, or just find a daybed and soak up the peaceful atmosphere of this unique resort.
Click here for the latest prices.
Lazi
The southern point of the island, Lazi is between Maria and San Juan. Most known for the San Isidro Labrador Church and the Lazi Convent, it is perhaps one of the most visited towns in Siquijor. The mysterious Century Old Balete Tree and the most famous waterfalls on the island, Cambugahay Falls, pulls in all tourists – even those just visiting for the weekend.
Lazi's fiesta is a fun one, honouring the importance of saging (banana) in the lives of the locals, along with its many uses. How this plant came to exist is depicted in dances during the town's fiesta of May 14-15th.  In fact, there's a surprising variety of bananas grown on the island, all honoured at the Saging Festival!
There are some great options of where to stay in Lazi, Siquijor detailed below.
Lazi Summary
Pros
Some of the most popular Siquijor attractions – Century Old Balete Tree and Cambugahay Falls
Other falls in the area include Lagaan Falls and Kawasan Falls & Cave
Visit The San Isidro Labrador Church and Convent (with museum), both built of coral stones and hardwood
Amazing spelunking adventures can be found at Sambulawan Underground River, one of the top things to do in Siquijor
Cons
Far from the ports of Siquijor and Larena – but there is a port here too, so check your ferry route
Best For…
Possibly the best place for local attractions and fun, with many of Siquijor's top adventures on your doorstep, making it ideal for everyone!
Best Place To Stay In Lazi
Below are the best places to stay in Lazi.
Looking for where to stay in Siquijor, cheap and cheerful style? Lazi Beach Club is a fabulous backpackers option in a secluded bay on the southern shore of the island.
Built fronting a rocky beach, you'll enjoy a tranquil garden with a gorgeous saltwater pool, and rooms that have all the basic necessities – a private bathroom with shower or bathtub, writing desk, coffee and tea making facilities, a private balcony and a sitting area. Choose from rooms with or without air-conditioning that have 1 single and 2 large double beds, 1 extra large double and 3 large doubles, or just 1 single – basically something to suit all group sizes!
There's an openair restaurant on-site, free WiFi in public areas, and free parking. Plus a karaoke set for some fun evening entertainment! You will need a motorcycle or car to get around, but staff can help you arrange fishing, canoeing, diving or even hiking trips. Cambugahay Falls is just a 20 minute drive away!
Click here for the latest prices.
Looking for something away from it all, even more so than the rest of this quiet island, and a cheap stay in Siquijor? Cha's Paraiso verde de Lazi ticks the boxes.
Fronting a private beach where there is almost no one around except for local fishermen, you'll find this a super relaxing spot.  
Accommodation is in 2-pax tents and the owners will keep you well fed (and need to as you're quite remote!). Alternatively you can cook your own food in their kitchen for a small fee.
You'll find a small table, a fan to cool you through the steamy nights, and ample bedding and a comfy mattress is provided. A couple of deck chairs to relax in through the day (maybe even a hammock) and you're all set for a basic but chilled out experience!
Click here for the latest prices.
With a stay here, you're just three minutes away from the top island attraction Cambugahay Falls, plus walking distance to what is the largest convent in Asia – a good combination!
Zosimo's Inn offers spacious, clean rooms that have just about everything you require for a good night's sleep. Enjoy modern bathrooms with complimentary toiletries, comfortable beds (one single and one queen), and flatscreen TVs.
The Inn, definitely a Siquijor cheap stay option, offers a paid ferry pick up/drop off service, motorbikes on-site to rent, and drinks/snacks for sale at the front desk. It's also walking distance from local restaurants.
Click here for the latest prices.
Map Of The Best Place To Stay In Siquijor
Final Words
It took us a few years to make it around to visiting Siquijor as it does take some effort to reach, but we're glad we did! You spend your days driving on empty roads, shielded by coconut and banana groves. Every vista is stunning, whether you're navigating the coastal road or getting lost in the hills in search of yet another waterfall.
Siquijor is home to some of the friendliest people we've met on our Philippine travels. Similar to Camotes Islands, we found everyone welcomed us with a wave or a smile, and you're not bothered by people selling you things on the beach. In fact, mostly you have beaches all to yourself aside from the odd fisherman.  
We're big fans of Siquijor and hope you enjoy it too!
I hope you enjoyed our best area to stay in Siquijor Island guide. Read all the best things to do in Siquijor Island here and find our full guide to awesome Siquijor here.