Traveling to Manila and looking for the best 5 star hotel in Manila, Philippines? We have you covered! There are some great options for a luxury hotel in Manila that aren't just fabulous but can also be relatively budget friendly.
To help you work out the best Manila 5 star hotel for you, we have compiled this 5 star hotels in Manila list. We don't just list the Manila 5 star hotels either, we have them all in a handy comparison chart so you can quickly compare factors like price and location that matter to you so you can quickly choose from 5 star hotels in metro Manila to one closer to the airport or elsewhere.
Alternatively, if you are looking for the cheapest 5 star hotel Manila or simply the best option available then you can also quickly determine this from the information below. So whatever you want, you can be booked and all set for your Manila trip as soon as possible!
If you don't want to waste any time and simply want the best five star hotel in Manila which is an awesome experience, click here and book the Okada Manila now.
Comparison Of Each 5 Star Hotel In Manila Philippines
Note: Prices for each of this list of five star hotels in Manila can vary from what is listed here depending on factors like the time of year and how far in advance you book. These are a rough, per night guideline to help you compare. Click the book buttons above (or click here) to get the latest prices. I recommend booking ahead for the best price of the 5 star Manila hotels.
Best 5 Star Hotels In Manila Philippines
Each of our five star hotel Manila options are below.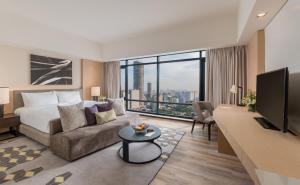 Map Of All Best Luxury Hotels In Manila
We hope you found your perfect 5 star hotel in Philipppines Manila. If you want more hotel options, find our list of the best beach resorts near Manila here or all the best 4 star hotels in Manila here or 3 star options here. You can find our full travel guide to Manila here.